Simple French-Style Potato Salad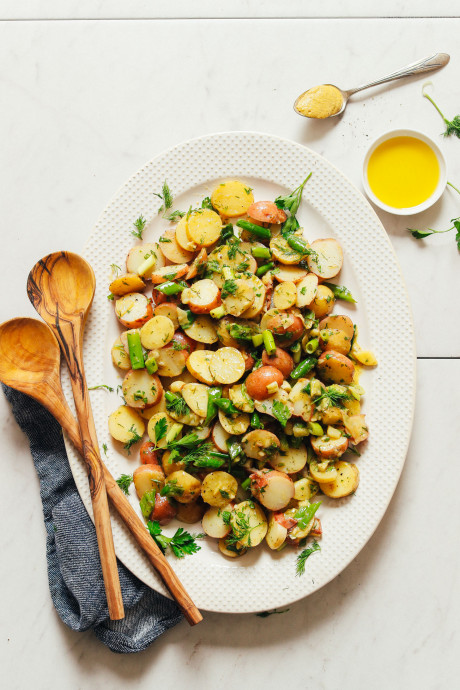 This simple potato salad is inspired by one we tried while in Austin. The potato salads I'm used to having are typically dressed with a mayo sauce, making them thicker and more indulgent. But I loved the tangy, light quality of a potato salad dressed in an herb-infused vinaigrette instead.
I later discovered that this is more of a French style of preparing potato salad. I hope you enjoy this inspired version that's perfect for summer BBQs, lazy picnics, road trips, and more.
This 10-ingredient, 30-minute recipe starts with thinly sliced baby potatoes (we enjoyed a mix of gold and red) boiled until just tender. They're then seasoned with salt, pepper, and a dash of apple cider vinegar for a layer of flavor. The dressing is a simple garlicky mustard vinaigrette with both red wine vinegar and apple cider vinegar. We found that the combination of these two provide the perfect amount and quality of acidity. Fresh herbs add even more earthy flavor, while olive oil helps create a creamy texture.
Ingredients:
POTATOES + VEGETABLES
2 pounds baby yellow potatoes (we used half yellow, half red)
1 Pinch sea salt and black pepper
1 Tbsp apple cider vinegar
1 cup diced green onion
1/4 cup fresh chopped parsley (optional)
DRESSING
2 1/2 Tbsp spicy brown mustard (or dijon mustard)
3 cloves garlic, minced
1/4 tsp each sea salt and black pepper (plus more to taste)
3 Tbsp red wine vinegar (or white wine vinegar)
1 Tbsp apple cider vinegar
3 Tbsp good olive oil (if avoiding oil, see notes*)
1/4 cup fresh chopped dill