Spinach Banana Muffins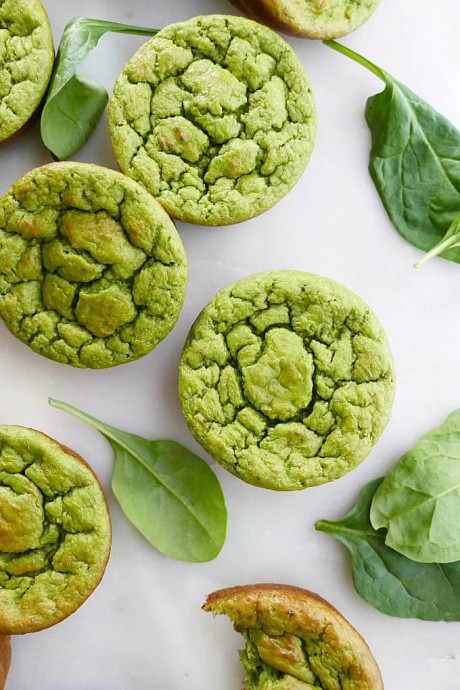 These veggie-packed Spinach Banana Muffins are prepared in the blender with wholesome ingredients. They're a gluten-free and no refined sugar treat for kids and adults alike! What's better than starting your day with a colorful, veggie-loaded treat? Honestly, there's nothing better in my opinion.
You guys know that I love creating recipes to help you enjoy veggies in out-of-the-box ways, and these Spinach Banana Muffins do just that. They're loaded with vegetables and fruit, have a beautiful green color, can be prepared in the blender (easy clean up!), and are free of gluten and refined sugar.
So, if you're looking for healthy muffins for kids and adults, these are for you! You can batch cook them to have a nutritious, on-the-go snack and breakfast option all week long. If you don't have one of the ingredients on hand, or if you or someone in your family has an allergy, you can make some substitutions. Almond milk: substitute cow's, soy, coconut, cashew, or any plant-based milk. Eggs: you can likely make these with "flax eggs" instead. Mix two tablespoons of ground flaxseed with six tablespoons of water, and set aside the mixture until it thickens. Then add it to the blender with everything else. Maple syrup: you can use honey, agave, applesauce, or regular sugar in place of the maple syrup.
You can serve these Spinach Banana Muffins at room temp, chilled, or warmed up in the oven or microwave. Store them in a sealed container at room temp or in the fridge (for 5-7 days), or in the freezer. They taste great with a slather of peanut butter and/or jam. If you want a little extra sweetness, add some chocolate chips to the batter!
Ingredients:
1/2 cup almond milk - can sub cow's or other plant-based milk
1/4 cup maple syrup - can sub honey or other liquid sweetener
2 eggs
1/4 cup plain Greek yogurt
2 tsp vanilla extract
2 bananas - ripe
2 cups spinach - packed
2 cups old fashioned oats - gluten free
2 tsp baking powder
1/2 tsp baking soda
1/2 tsp sea salt