Vegan Eggplant Meatballs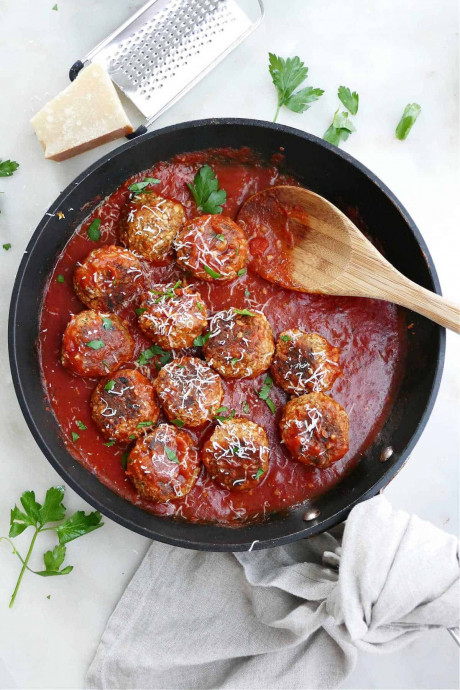 For a plant-based recipe that's full of flavor and nutrition, try these vegan eggplant meatballs! They're made without breadcrumbs and use ground oats and a flax "egg" as binders. Cooked and mashed eggplant lends a meaty texture that's just as good as the real thing. Eggplant is one of those veggies that readers always request to be featured in more recipes. In the past, I've struggled with this request because, you see…I used to really not like eggplant!
But after a few years of experimentation, I've come to not only like eggplant but actually seek it out. I'm especially pleased with the recipes I have lined up for eggplant week this year, starting with today's vegan eggplant meatballs.
Thanks to mashed eggplant and ground oats, these meatless "meatballs" have a VERY similar texture to real meatballs but a LOT more fiber. They also have a ton of good flavor from Italian seasoning, garlic, and red pepper flakes. I was pleasantly surprised by how well they turned out.
You can serve eggplant meatballs with spaghetti (regular or legume-based), on top of zucchini noodles (seasonal veggies galore!), or stuffed into a hoagie roll. The opportunities are endless. Enjoy!
Ingredients:
1 tablespoon milled flaxseed
4 cups peeled and diced eggplant - about 1 very large or 2 medium eggplant
2 tablespoons extra virgin olive oil
1.5 cups rolled oats - ground into flour via a blender or food processor
2 tablespoons Italian seasoning
1/2 teaspoon salt
1/2 teaspoon red pepper flakes - optional
4 cloves garlic - minced
25 ounces marinara sauce - of choice
Spaghetti, veggie noodles, or hoagie rolls - for serving
Chopped parsley or basil - for serving