Spinach Pancakes Recipe with Berry Compote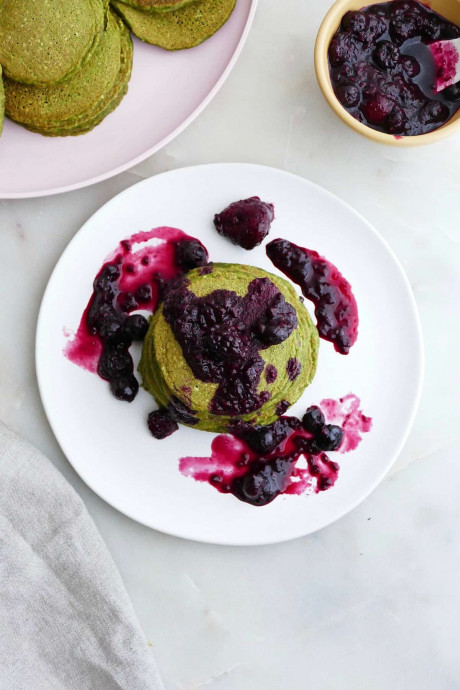 This recipe for red and green spinach pancakes is colorful, festive, and delicious! The healthy, gluten free spinach oatmeal pancake batter is made in the blender for easy clean-up, and the low-maintenance berry compote uses frozen mixed berries. Both kids and adults will enjoy these sweet green pancakes!
This recipe for spinach pancakes may sound weird, but trust me, it tastes amazing. The pancakes are naturally green from a handful of spinach, but they're sweet (not savory) thanks to maple syrup and a little granulated sugar in the batter. I also used ground oats as the primary flour, which means this healthy breakfast has some extra fiber and can fit into gluten free diets.
And we can't forget to talk about the best part: berry compote!! While you're making the pancakes, heat some frozen berries and maple syrup in a sauce pan until they break down and start to get syrupy. This berry sauce adds a pop of red and purple, and it pairs really well with the flavors in the pancakes.
Ingredients:
For the pancakes
1.5 cups rolled oats - get certified gluten free if needed
3/4 tsp cinnamon
1/4 tsp salt
1 tsp baking powder
1/2 tsp baking soda
1 tbsp granulated sugar - optional; add for sweeter pancakes
1 cup milk of choice - I used unsweetened almond
3 tbsp maple syrup
1 tsp vanilla extract
1 to 2 cups spinach - use 2 cups for greener color
Canola oil - for cooking
For the berry compote
2 cups frozen mixed berries
2 tbsp maple syrup