Quinoa Arugula Salad with Pineapple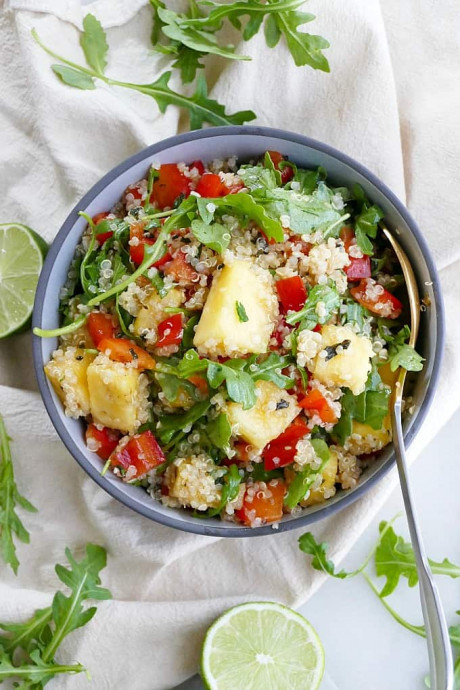 Quinoa Arugula Salad with Pineapple is a quick and delicious side dish that's bursting with flavor from fresh, simple ingredients. This vegetarian and gluten-free quinoa salad is perfect for your next potluck!
This recipe started out as a total fail. I set out to make a pineapple arugula smoothie in honor of Cinco de Mayo. But as soon as I tried my super green concoction, I knew I couldn't salvage it.
I think arugula has just too strong of a taste to be the sole leafy green in a smoothie. But I still plan to master an arugula smoothie at some point, just with a better combo of ingredients, so be on the lookout!
Anyway, this amazing Quinoa Arugula Salad with Pineapple was the happy result of my kitchen fail. And boy am I glad that's where I landed.
Ingredients:
2/3 cup dry quinoa - to yield ~2 cups cooked quinoa
1.5 cups water
2 cups pineapple - chopped
1 bell pepper - deseeded and chopped
2 cups baby arugula - loosely packed, more to taste
For the dressing:
1/4 cup olive oil
1/4 cup fresh mint - chopped
2 limes - juiced
1 tbsp honey