Strawberry Crunch Cake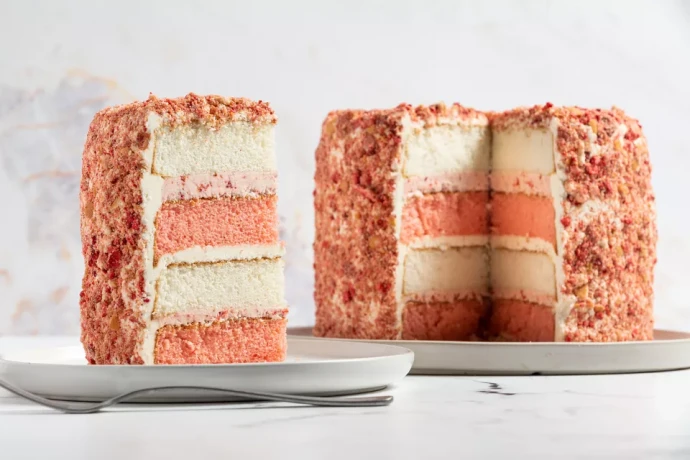 Remember those ice cream bars from when you were a kid that were covered in delicious bits of strawberry crunchies? This layer cake is blanketed in a homemade version of those same crumbles. Homemade strawberry crunch is made with a combination of freeze dried strawberries and crushed vanilla wafer cookies, plus a little melted butter to hold it all together. It is decadent, fun, and nostalgic!
In fact, freeze strawberries are used in two ways in this recipe. Not only in the strawberry crumble, but they are also incorporated into part of the buttercream frosting to create a couple of layers inside the cake with strawberry flavored frosting.
Ingredients:
White Cake:
1 15 1/4 ounces box white cake box
1 cup water
1/3 cup vegetable oil
4 large egg whites
Strawberry Cake:
1 15 1/4 ounces box strawberry cake mix
1 cup water
1/3 cup vegetable oil
3 large eggs
Buttercream:
8 cups powdered sugar
2 cups softened unsalted butter
2 teaspoons vanilla extract
2 tablespoons milk
1/4 cup crushed freeze-dried strawberries
Strawberry Crunch:
2 cups freeze-dried strawberries
6 ounces vanilla wafer cookies
3 tablespoons melted butter