Couscous Salad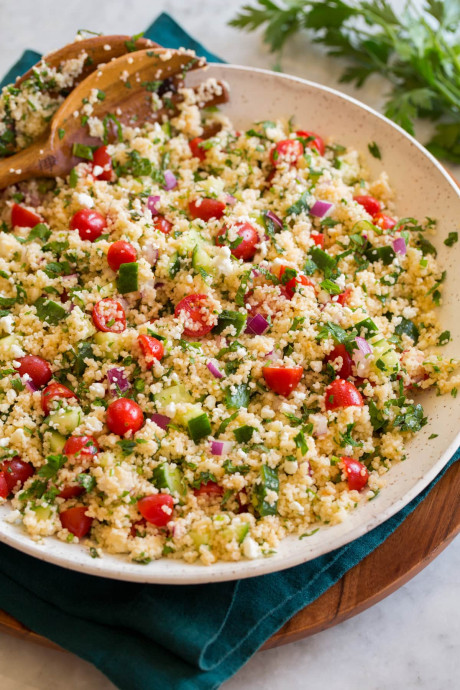 Simple and refreshing Couscous Salad! It's brimming with crisp veggies, fresh herbs, tangy feta and tossed with a vibrant lemon dressing.
Another salad recipe to add to the rotation! This one is made with fine tender couscous, a rich olive oil dressing, and the perfect pairing of bright tomatoes, cucumbers and herbs.
It has a delicious Mediterranean flavor that pairs exceptionally well with seafood and chicken.
It's also very versatile and you can swap and add other ingredients like chick peas or pine nuts (see ideas in variations below).
Here you got lots of nutritious ingredients in this tasty salad that you'll feel great about eating! It makes a great lunch or delicious dinner side dish.
Ingredients:
1 cup dry Moroccan couscous
1 cup warm water
Salt and freshly ground black pepper
1/4 cup + 1 tsp olive oil, divided (regular or extra virgin)
2 Tbsp fresh lemon juice
1 tsp minced garlic (1 clove)
1 1/2 cups grape tomatoes, halved
1 1/2 cups diced English cucumber
1/3 cup diced red onion
1/3 cup finely crumbled feta cheese
1/3 cup toasted slivered almonds (optional but highly recommended)
1/3 cup finely chopped fresh parsley
2 Tbsp finely chopped fresh mint