Shirred Eggs (Baked Eggs with Spinach & Mushrooms)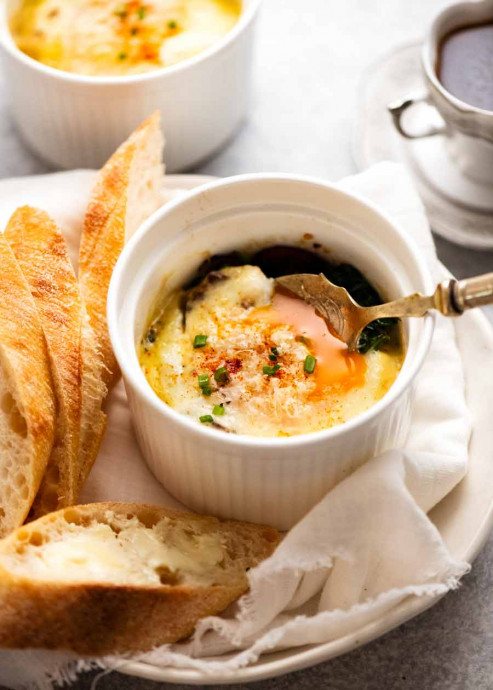 Shirred Eggs are a type of baked eggs, and are a super-simple way to turn the humble egg into an enticing meal for breakfast, lunch or dinner. Eggs are cracked over a bed of garlicky mushroom and spinach in small dishes, topped with a dash cream and parmesan then baked until just-set. Bread for dunking is definitely not optional!
These shirred eggs though? They're cooked on a bed of garlicky mushrooms and spinach. We drizzle the eggs with just a touch of cream and give it all a shower of parmesan before popping in the oven. The cream melds with eggs as they bake, yielding bubbling, custardy, runny-yolks-with-set-whites perfection!
There's endless possibilities for ingredients you can marry with your shirred eggs. Ham, flaked smoked fish, fresh herbs, breadcrumbs, different cheeses, tomato (like Shakshuka), cooked veg like asparagus, capsicum, artichoke, even shaved truffle! The list goes on – hatch your own shirred eggs creations!
Ingredients:
MUSHROOM SPINACH FILLING:
30g / 2 tbsp unsalted butter
200g / 7oz mushrooms , sliced thinly (0.3cm / 1/8″)
2 cloves garlic , finely minced
2 tsp fresh thyme leaves
1/4 tsp cooking / kosher salt
1/8 tsp black pepper
4 cups baby spinach
BAKED EGGS:
4 large eggs , fridge cold (Note 1)
Pinch salt and pepper
1/4 cup thickened cream (heavy cream)
4 tbsp parmesan , freshly grated
1/8 tsp smoked paprika (optional)
2 tsp chives , finely chopped (optional)