Raspberry Icebox Cake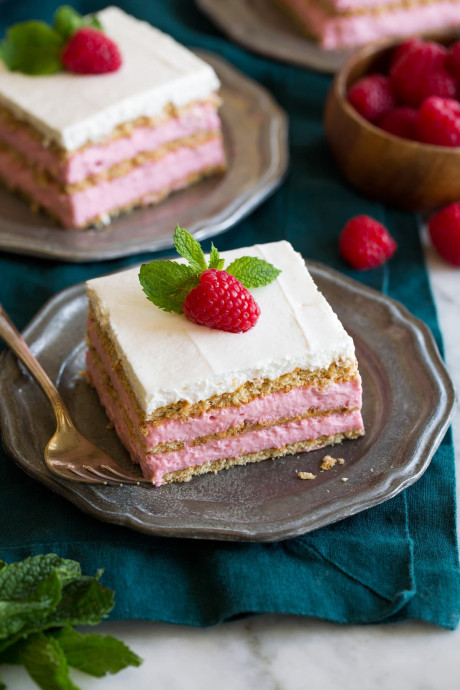 Rich and refreshing Raspberry Icebox Cake! Layered with graham crackers, homemade fresh raspberry cheesecake flavored mousse and billowy whipped cream. So many layers of tempting deliciousness!
It is a type of no-bake "cake" that is generally layered with crackers, wafers or cookies which alternates with a cream filling. They can also include fruits, nuts and other mix-ins and they come in various flavors such as chocolate or strawberry.
After assembly, the icebox cake is set in the fridge to rest while the cracker layer absorbs some of the moisture from the cream filling and softens and becomes cake-like.
Since the cake is served cold it's a great dessert for hot summer days. This dessert is decadent, fruity, fluffy, creamy, fresh, flavorful, lightly tangy, perfectly sweet, and just beyond tasty!
It's the dessert that's worth every bit of effort and it will earn high praise at the dinner table.
Ingredients:
15 oz (3.5 cups) fresh raspberries, plus more for garnish if desired
2 1/2 tsp gelatin powder
3 Tbsp (45 ml) cold water
1 3/4 cups (415 ml) heavy cream
12 oz. (340 g) cream cheese, softened
2 1/4 cups (270 g) powdered sugar
1 tsp vanilla extract
Few drops natural red food coloring (completely optional)
1 (14.4 oz) box graham crackers (about 24 full size sheets)
1 1/4 cups (295 ml) heavy cream
1/4 cup (30 g) powdered sugar
1 tsp vanilla extract