Cheesy Baked Shrimp Dip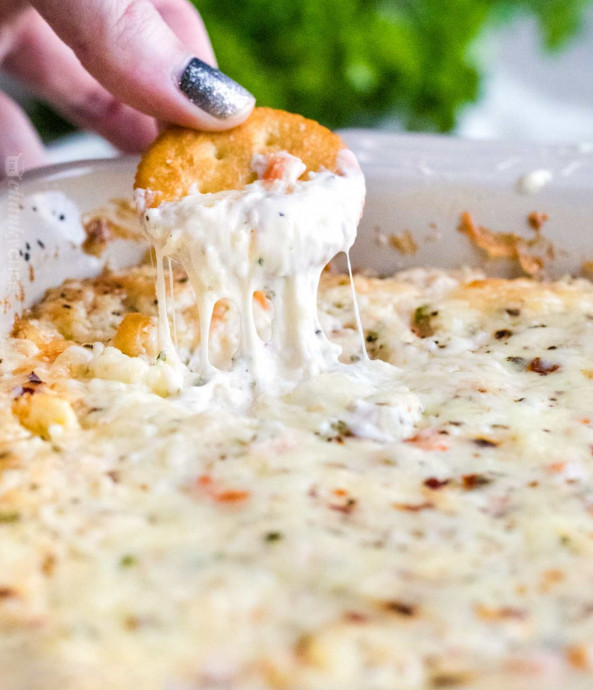 Creamy, cheesy and garlicky, this baked shrimp dip tastes like a dip-able version of shrimp scampi! Perfect for a party or gameday gathering!
Just cook the shrimp, cool them completely, assemble the dip, but do not bake. Cover tightly and refrigerate overnight. Let dip sit on the counter for 30 minutes or so to let it the chill come off it, then bake as directed!
Can this shrimp scampi dip be made in the crockpot?
Absolutely! Although it can't be completely made in the crockpot, since you'll still need to cook the shrimp first, but instead of baking, it can be heated through in the crockpot until hot and bubbly (about 2 hours on low should do the trick). I promise you this dip will go quickly at any party, but in case you do have leftovers, they should last 2-4 days… kept in an airtight container in the refrigerator.
Ingredients:
3 Tbsp olive oil
2 lbs. large peeled and deveined shrimp , cut into fourths
6 cloves garlic , minced
1/2 tsp kosher salt
1/2 tsp black pepper
1/4 tsp red pepper flakes
1/4 cup dry white wine
16 oz cream cheese , softened
1/2 cup mayonnaise
1 1/2 cups shredded mozzarella cheese
1/2 cup grated Parmesan
2 lemons , zested and juiced
3 Tbsp fresh parsley , minced