Chicharrones de Pollo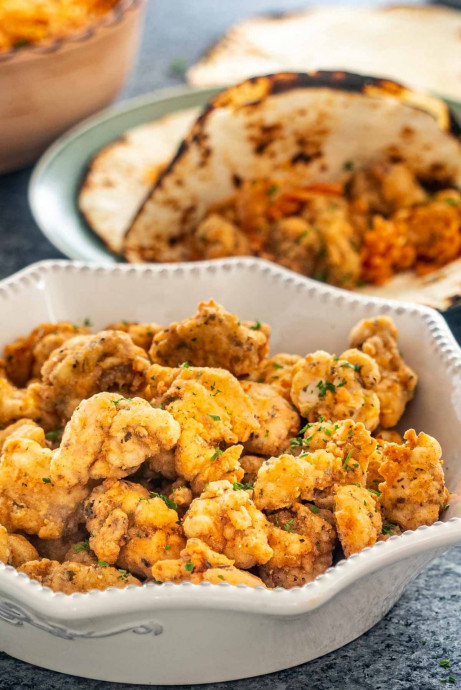 These Chicharrones de Pollo are bite size chicken thigh pieces marinated in a garlic, lime and rum marinade, dredged through flour and fried to perfection. They're perfect in tacos, served with rice or even dipped in your favorite dipping sauce.
It is, in fact, quite true that I love to add alcohol to my food. Whether it's wine, rum, tequila or whatever alcohol I have lying around, I will use it in my food because it brings lots of great flavor to my dishes. So it may come as no surprise to you when I tell you that there is lots of rum in this recipe!
This chicken is is one of the best fried chicken I've ever had. The chicken is marinated in a garlic, lime and rum marinade for a couple hours. The rum is a great tenderizer for the chicken and this marinade gives the chicken a lot of lime and delicious garlic flavor.The chicharrones is then dredged through a very well seasoned flour mixture with lots herbs and spices, after which it's fried to a crisp perfection. Squeeze a wedge of lime on your chicken piece before you pop it in your mouth, serve it along with some Mexican rice, serve it on tacos, or even dip it in your favorite dipping sauce.
Ingredients:
1½ lb chicken thighs boneless and skinless, cut into bite size pieces
vegetable oil for frying
1 lime cut into wedges, for serving
1 tbsp fresh parsley chopped for garnish
For marinade
6 cloves garlic minced
2 tsp dried oregano
½ cup lime juice from about 4 limes
¼ cup lime zest from the 4 limes
¼ cup light rum
1 tsp salt
For flour mixture
1 cup all-purpose flour
1 tsp salt
1 tsp garlic powder
1 tsp onion powder
1 tsp cumin
1 tbsp oregano dried
1 tsp sweet paprika