Thai Black Sticky Rice Pudding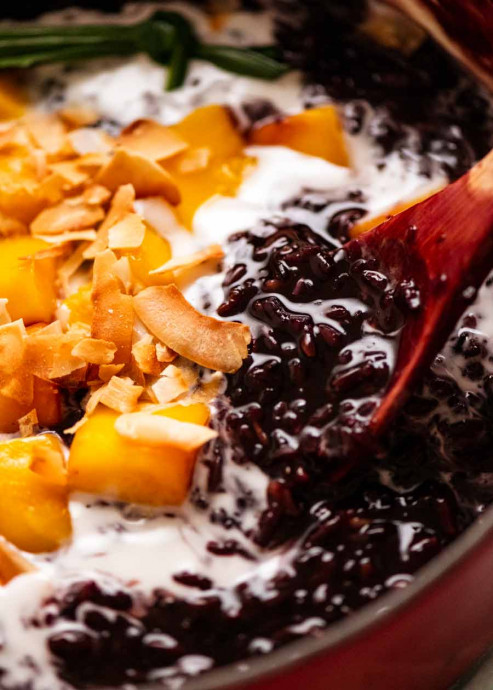 Thai Black Sticky Rice Pudding is a traditional Thai dessert that is favored by upscale modern Asian restaurants for its striking jet black color. It's hard to believe you can make something so delicious that is fundamentally, made with just rice, water and sugar!
Black sticky rice is a type of glutinous whole grain rice used to make desserts in Thailand and a number of other South-East Asian nations. It has an eye-popping, natural ink-black color, and when cooked has a nutty flavor with a creamy and sticky pudding-like texture. While white sticky rice pudding may be the more well-known Thai dessert, here in Australia upmarket Thai and Modern Asian restaurants tend to favor black sticky rice, for its exotic and eye-catching appearance. It's not all looks though – it also has a better flavor!
Just like Western puddings, fresh fruit and a creamy sauce are the perfect accessories to complete the dessert. Sticky rice puddings are frequently finished with good drizzle of coconut cream, and sliced tropical fruit of some kind – usually juicy mango.
Rich but not cloying, and shining with the flavors of South-East Asia, this is the quintessential Thai dessert!
Ingredients:
1 cup black glutinous rice (aka black sticky rice)
4 tbsp white glutinous rice (white sticky rice)
4 cups water
2 pandan leaves , folded and knotted
1 cup (loosely packed) palm sugar (or brown sugar), grated with box grater (Note 3)
1/2 tsp salt
1/2 cup coconut cream (very highly recommended)
1/8 tsp salt
1/2 cup shaved coconut , toasted, optional
Mango cubes or crushed peanuts , for topping, optional