Chicken Jalfrezi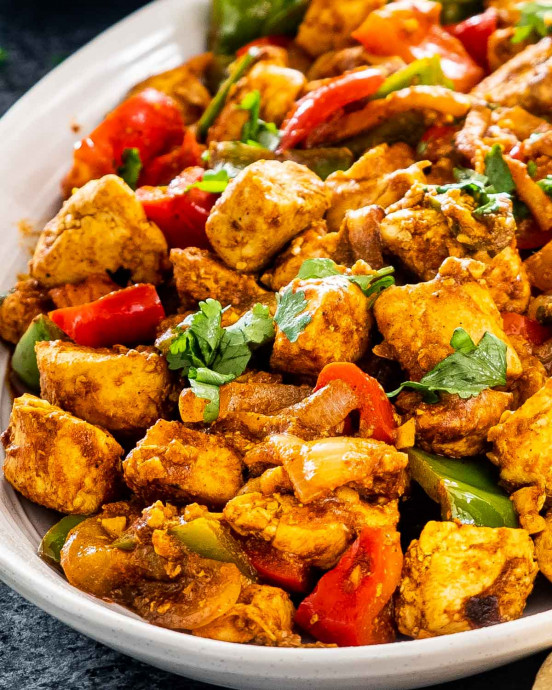 This Chicken Jalfrezi recipe pairs well with rice and either Naan or Roti. Chicken and veggies in a spicy tomato curry, really quick to make and perfect for a quick weeknight dinner!
This chicken Jalfrezi is nothing to be scared of. Although the ingredient list may look long, it really isn't, most of them are spices which you probably already have in your pantry, especially if you've been cooking my recipes. Not to mention you can have this on your dinner table in just 45 minutes. Your family will thank you.
This chicken Jalfrezi will last 4-6 months frozen. Let the chicken completely cool down to room temperature before transferring to an airtight container and freezing.
Let the chicken Jalfrezi thaw overnight in the fridge before following the reheating instructions detailed above. While you can reheat straight from the freezer, it will be much easier to work with if it's thawed first.
Ingredients:
2 tablespoons vegetable oil
1½ pounds chicken breasts boneless, skinless, cut into 1 inch cubes
½ teaspoon turmeric ground
1 teaspoon chili powder
¼ teaspoon salt or to taste
2 tablespoons vegetable oil
1 large onion cut in ¼ inch slices
6 cloves garlic sliced
1 inch ginger piece julienned
1 medium green bell pepper cut into 1 inch cubes
1 medium red bell pepper cut into 1 inch cubes
⅓ cup tomato sauce or tomato passata
1 teaspoon smoked paprika
1½ teaspoon coriander ground
1 teaspoon cumin
¼ teaspoon garam masala
¼ teaspoon salt
2 green chillies sliced, or 1 small jalapeño
½ cup water
2 tablespoons fresh cilantro roughly chopped