Baked Sweet and Sour Chicken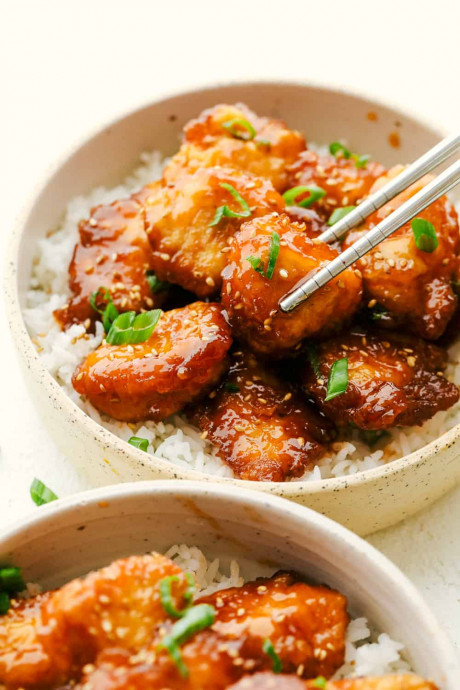 Baked Sweet and Sour Chicken is 1000x better than any takeout! It's crispy on the outside, tender juicy on the inside and exploding with flavor. I am going to keep this as short and simple as possible…you need to make this Sweet and Sour Chicken recipe. This recipe is number one for a reason, it's absolutely incredible. We have yet to find any takeout restaurant beat this recipe.
The secret to the breading is the cornstarch, it makes such a huge difference and the flavor of the sauce is unbeatable. It will thicken as it cooks, coating the chicken perfectly. It's also easy enough that you just might have to add this to your menu every week, it's just that good! Easy take out at home!
Sweet and Sour Chicken is best reheated on the stove. Reheating it in the microwave can make the chicken rubbery and overcooked. Place leftovers in pan on the stove top and heat on medium heat, stirring often, till heated through.
Ingredients:
4 Chicken breasts boneless, skinless chicken breasts
Salt and pepper to taste
1 1/2 cup cornstarch
3 eggs beaten
1/4 cup canola oil
1 cup granulated sugar
4 tablespoons ketchup
1/4 cup white vinegar
1/4 cup apple cider vinegar
1 tablespoon low sodium soy sauce
1 teaspoon garlic salt