Pumpkin Bars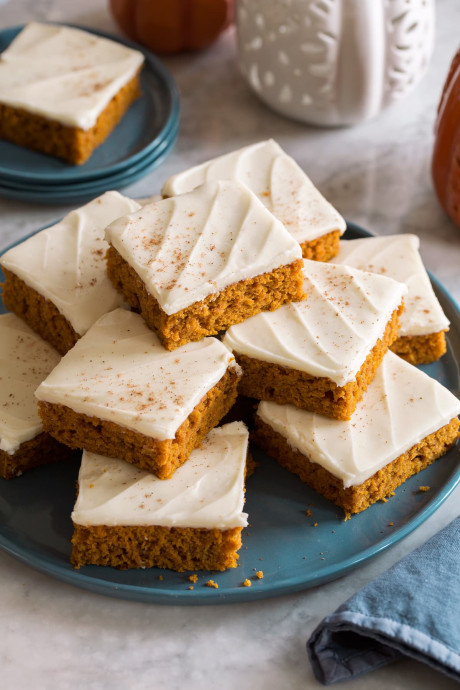 The BEST Pumpkin Bars! They're perfectly pumpkin-y, deliciously rich and buttery, and they are finished with heavenly cream cheese frosting. A fall staple every year! A simple treat that makes enough for a small crowd or dessert you can enjoy throughout the busy week. These pumpkin bars are one of my favorite things to make this time of year!
They have the perfect medium density to them. I switched from oil to butter, and cut back on the leavening and the eggs from 4 to 2 (vs. the traditional recipe).
They have just the right level of sweetness. We use a combo of caramel-like brown sugar and granulated sugar. Then of course powdered sugar for the frosting. This is a dessert after all.
And you'll find they have plenty enough spice and pumpkin flavor. I'm not a fan of pumpkin recipes that try to use just a little pumpkin for a chewy texture or something. You might as well just make a spiced dessert and not even waste that can of pumpkin.
Then of course what would they be without that dreamy frosting? It's a decadent finishing touch that really leaves everyone craving more.
You'll love how easy these are to make, plus they freeze well too.
I think they ought to be the first thing on the fall to do list this year!
Ingredients:
Pumpkin Bars
2 cups (256 g) unbleached all-purpose flour (spoon and level to measure)
1 tsp baking soda
3/4 tsp salt
2 tsp ground cinnamon
1/2 tsp ground nutmeg
1/4 tsp ground ginger*
1/8 tsp ground cloves
1 cup (226 g) unsalted butter, diced into 1 Tbsp pieces**
1 cup packed (200 g) light brown sugar
1/2 cup (100 g) granulated sugar
1 (15 oz) can pumpkin (not pie filling)
2 large eggs
2 tsp vanilla extract
Cream Cheese Frosting
8 oz. cream cheese, at room temperature
6 Tbsp (85g) unsalted butter, at room temperature
3 cups (360 g) powdered sugar
1 tsp vanilla extract