Easy Cherry Bars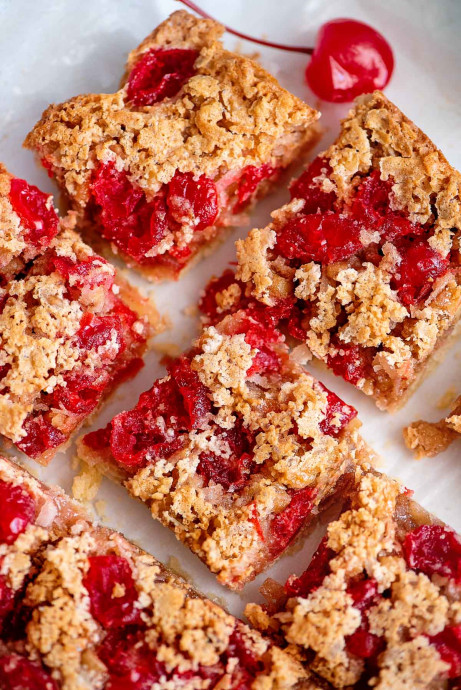 No matter what time of year these easy Cherry Bars are always a crowd pleasing dessert recipe. Shortbread crust piled with chewy cherry and coconut filling. Maraschino cherries are used so it's an easy recipe all year long.
This vintage recipe has stood the test of time for good reason. It's easy to make and completely delicious.
Buttery shortbread on bottom, loads of juicy cherry filling and a crackling top that's so satisfying.
Because it doesn't use fresh cherries it's perfect any time and especially popular around the holidays. It's a wonderful cherry dessert recipe and the easiest way to make delicious cherry bars.Store in an airtight container in the refrigerator for up to 5 days.
Ingredients:
½ cup unsalted butter softened
1 cup plus 2 tablespoons granulated sugar
1 1/4 cup all-purpose flour regular or measure-for-measure gluten free flour
¼ teaspoon ground cinnamon
2 eggs beaten
1 tablespoon juice from the maraschino cherries
½ teaspoon baking powder
½ teaspoon vanilla
½ cup coconut use grated and unsweetened
¾ cup walnuts finely chopped
1/2 cup maraschino cherries stems removed and chopped