Peach Salsa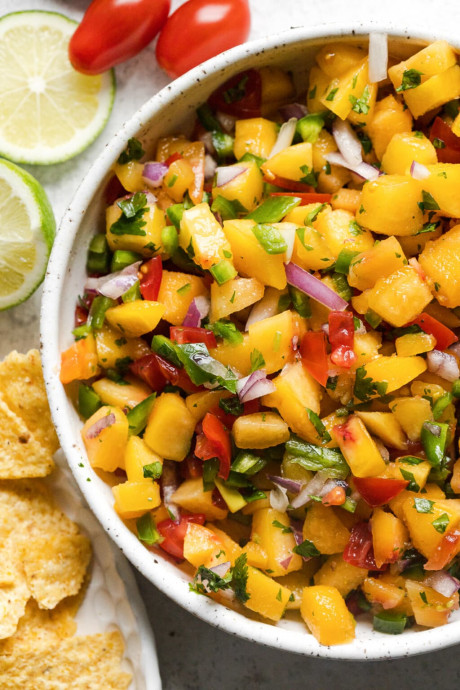 An easy Peach Salsa made with 6 ingredients – fresh peaches, jalapenos, red onions, lime juice, cherry tomatoes, and cilantro. Goes great with tortilla chips or on top of your favorite tacos! Picture it: the sun is shining down, you're sipping on a glass of White Sangria, and you're craving a refreshing snack to go along with this perfect scene. Why not whip up a batch of Peach Salsa with homemade tortilla chips?
One of the best ways to enjoy this salsa is with a heaping pile of homemade tortilla chips and a bowl of chunky guacamole as you sit poolside. Don't forget to make a pitcher of tequila sunrise and classic mojitos! Peach salsa is a great topping that adds a sweet touch to savory meals. I especially love it alongside these juicy chicken kabobs or tossed into a salad. You can even spoon it on top of a tender grilled skirt steak or baja fish tacos.
Is it time for dessert? Use the salsa to give your Mexican desserts a burst of bright and sweet flavors. It would be delicious with churros, chocolate avocado mousse, or to eat with cinnamon chips.
Ingredients:
4 medium peaches, washed and diced
2 jalapenos, seeds removed and finely diced
1/4 cup finely diced red onions
1 lime, juiced (about 2 tablespoons)
1/4 cup diced cherry tomatoes
2 tablespoons diced cilantro, packed
1/4 teaspoon kosher salt, plus more to taste