Spinach Artichoke Dip Bites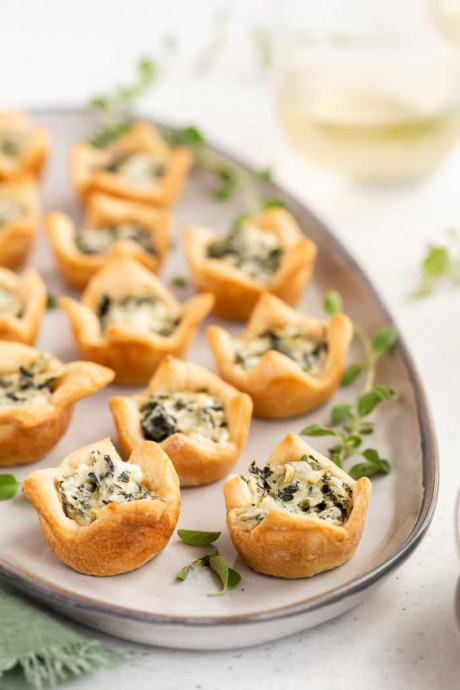 So why spinach artichoke dip bites? For me, game day food is easy to make, easy to grab, and packed with flavors. Whether it is buffalo chicken dip bites or BBQ chicken nachos, I want to make sure what I am serving up is also easy for my family and guests to grab and go. While we may be doing smaller gatherings this holiday season and into Game Day, we will not give up on delicious appetizers and will keep the spirit alive.
For these bites, we start with combining cream cheese, sour cream, and a good dose of Duke's Real mayonnaise (I used 1/4 cup). Next is building a complex base of cheese flavors so we add in freshly grated parmesan cheese and some shredded mozzarella cheese. Add in your spinach and artichokes to this cheese-filled base and you have yourself the classic spinach artichoke dip. Except, we don't stop there. We take it one step further by baking this dip in a puff pastry crust or pie crust. Why have spinach artichoke dip when you can have spinach artichoke dip wrapped in a warm buttery crust?? Yup, that's what I thought, you would prefer the bites too! It's a no-brainer and one I suggest you add to both your holiday season appetizers and game day list.It's a quick bake and you can easily use pre-purchased crusts to make these an effortless activity.
Ingredients:
4 ounces cream cheese, softened
2 tablespoons sour cream
¼ cup Duke's Real Mayonnaise
1 garlic clove, minced
½ cup finely grated parmesan cheese
¼ cup shredded mozzarella cheese
6 ounces artichoke heads, chopped (be sure to drain liquid form can and squeeze liquid off artichokes before measuring)
4 oz frozen spinach, thaw and squeezed of excess liquid
1 package puff pastry or frozen pie crust