Classic Banana Cake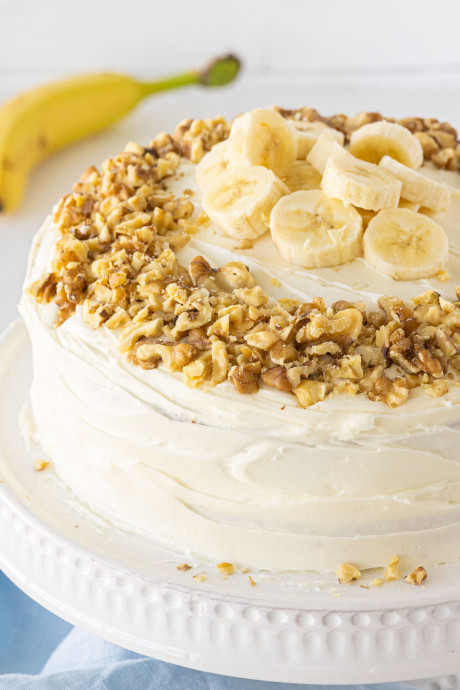 Banana cake is a lesser-known use of overripe bananas, as most people naturally rely on regular banana bread to get rid of those slightly aged, black, and brown bananas gathering dust in their fruit bowls.
However, for something sweeter and with more of an intense spiciness, this recipe for a banana cake is the perfect dessert, whether as a weeknight after-dinner dessert or to celebrate your next big occasion. Just make sure that your bananas are really, really ripe!
This cake basically frosts itself and you can hide any and all imperfections with walnuts and fresh bananas! The best way to do it without any fancy equipment is to put one of the cakes on a plate lying face down. Frost the top of that one completely, not worrying about how it looks. Then, cover that with the other cake and apply the rest of your frosting onto the top. Using either an offset spatula or just a wide spoon. Brush the frosting all over. Don't worry about making it even or consistent – just make sure every bit of it is evenly coated.
Once you fall in love with baking cakes you can invest in a proper cake-turner and learn about things like crumb layers, top removers, and pipette bags. For this cake, just get it frosted, throw on some walnuts and fresh banana and don't care about the appearance – it's going to taste amazing no matter what!
Ingredients:
2 cups all-purpose flour
1 1/4 teaspoon baking powder
1 teaspoon baking soda
1 teaspoon salt
1/2 teaspoon ground cinnamon
1/8 teaspoon ground nutmeg
2/3 cup butter
1 cup granulated sugar
2/3 cup brown sugar
2 large eggs
11/2 teaspoons vanilla extract
1 1/2 cups mashed ripe banana
2/3 cup buttermilk
2/3 cup chopped walnuts
one batch cream cheese frosting
Toppings
1-2 fresh bananas, sliced
½ cup toasted chopped walnuts