Fresh Savory Tomato Pie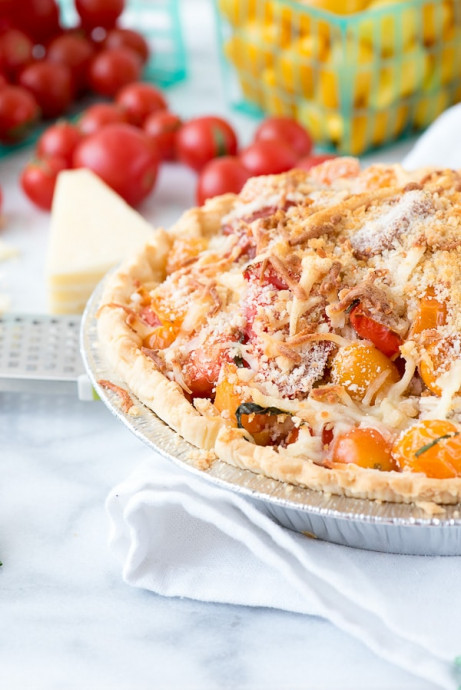 Tomato Pie is brimming with fresh, flavor-packed summer tomatoes, basil, mouthwatering cheeses, with a crisp garlic breadcrumb topping. Even tomato-haters love it! This recipe is an all-time summer favorite recipe; bar none.
As soon as fresh garden tomatoes and tomatoes at Farmer's Markets pop up this recipe needs to be on the dinner table. The flavor combination is indescribably good. The fresh ripe tomatoes, layer of cheese, garlic and crunchy breadcrumb topping are out of this world. It's a definite 'must make' during tomato season.
It's a savory pie with a traditional pie crust filled with a mix of fresh tomatoes for filling. The tomatoes are tossed with fresh basil, breadcrumbs, two types of cheese and garlic. When baked the tomato pie recipe retains a nice texture of fresh tomatoes and the flavor is irresistible. This recipe proves that it only takes a few wholesome ingredients combined in the right way to have a fantastic dish.
Ingredients:
Prepared Pie Crust recipe for an 8 inch to 9 inch pie crust (or purchased pie crust)
¼ teaspoon Kosher Salt
¼ teaspoon Black Pepper , freshly ground
2 cloves Garlic , minced or pressed
2 tablespoons finely shredded fresh Basil Leaves
4 medium ripe Tomatoes , cored, cut in half and sliced
1 cup Yellow Cherry Tomatoes , cut in half
1 cup Red Cherry Tomatoes , cut in half
1 cup fine Bread Crumbs (I used Ian's Gluten-Free Panko Crumbs)
½ cup coarsely grated fresh Mozzarella cheese
½ cup coarsely grated Pecorino or Asiago cheese