Grilled Chili Cilantro Lime Chicken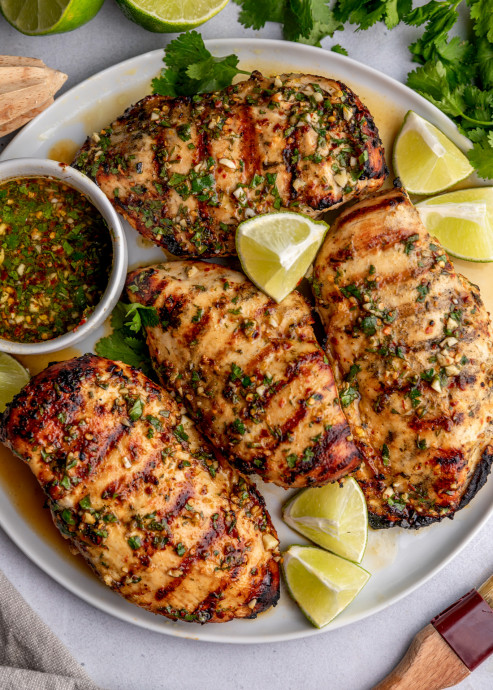 Easy Grilled Chili Cilantro Lime Chicken is salty, sweet, sour, and spicy and is great on salads, with rice, or in burritos and wraps!
This easy grilled chili lime chicken is just one of a whole bunch of healthy recipes I will be sharing with you in the upcoming weeks. It's easy to make, healthy, spicy, and delicious.
The chicken is marinated in a lime, chili, and spice marinade then grilled to perfection. You can make the chicken on the stovetop in a pan or griddle or grill it outside on a grill. Either way, this chicken is simply incredible! This recipe is super simple and only requires a few fresh ingredients that you probably already have in your fridge and pantry.
Ingredients:
4 medium chicken breasts boneless, skin-less (or thighs)
Marinade:
1/4 cup fresh lime juice
zest of one lime or 1 tsp
2 tablespoons olive oil
2 tablespoons fresh chopped cilantro
2 garlic cloves chopped finely
1 teaspoon salt
1 teaspoon brown sugar or honey
1 teaspoon red chilli flakes adjust to taste
½ teaspoon ground Cumin