Creamy Honey Mustard Chicken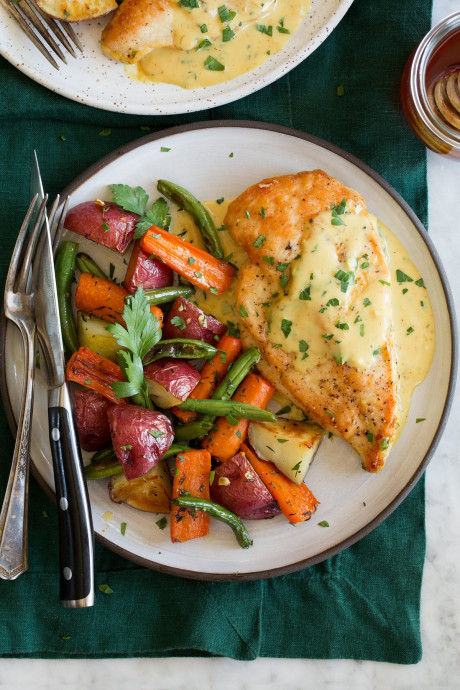 A super easy and incredibly flavorful Honey Mustard Chicken recipe! Chicken breasts (or chicken thighs) are pan seared until beautifully golden brown then they're blanketed with sweet and savory, rich and creamy honey mustard pan sauce.
Our new favorite honey mustard chicken! The secret is the cream, doesn't it just make everything better?
Here we use a blend of two types of bright mustard, a fair amount of sweet honey, plenty of heavy cream, a nice balance of fresh herbs, and just enough garlic to build up flavor.
It's the perfect combination of sweet, savory, creamy, rich and tangy.
To finish the meal serve it with this delicious roasted vegetable blend.
Or you could go the amazingly easy route and just serve it with baked red potatoes. Just pierce medium red potatoes with a fork (optionally wrap in foil) and bake at 400 until tender, usually about 40+ mins.
Then serve like a regular baked potato – top them with butter, cheese, sour cream, and/or chives. Its a go-to side at our house and we actually prefer them over baked russet potatoes.
Ingredients:
Chicken
2 (12 oz) chicken breasts,* halved through the thickness, pounded even
Salt and freshly ground black pepper
1/4 cup all-purpose flour
1 1/2 Tbsp olive oil, divided
Honey Mustard Sauce
1 1/2 Tbsp dijon mustard
1 1/2 Tbsp yellow mustard
3 Tbsp honey
1/8 tsp cayenne pepper
3/4 cup + 1 Tbsp low-sodium chicken broth, then more to thin if desired
1 1/2 tsp cornstarch
1 Tbsp minced garlic
1 1/2 tsp minced fresh thyme
1/2 cup heavy cream
1 Tbsp minced fresh parsley (optional)