Lemon Cake with Fluffy, Less-Sweet Lemon Frosting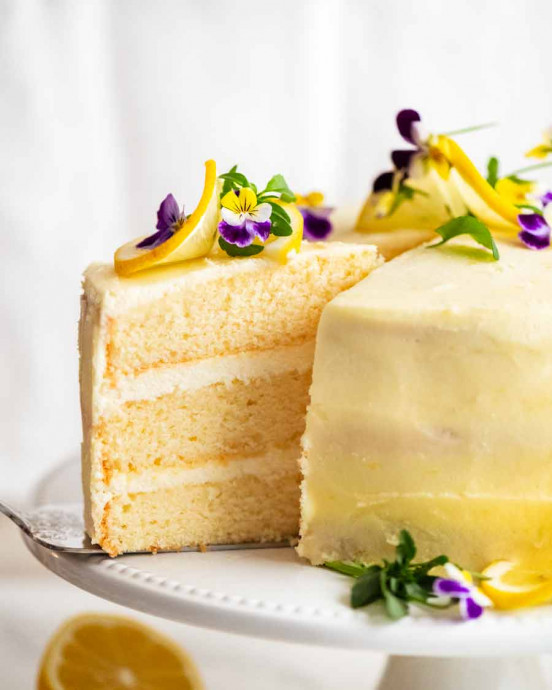 Here's a beautiful lemon cake with lovely, bright lemon flavours both in the cake and the fluffy lemon frosting. The cake layers are based on my signature Vanilla Cake recipe that readers around the world have fallen in love with. Far superior to typical butter cakes in texture, flavour and appearance, the bonus is that it stays perfectly fresh for 4 whole days (unheard of!) and it's more foolproof to make!
Lemon sponge cake with 2 or 3 layers – Based on this Vanilla Cake batter which is one of the all-time most popular recipes on this website. It has an elegant, tender patisserie-style crumb that stays fresh for 4 days. Made with fresh lemon juice and zest.
Not–too-sweet Lemon Frosting – Based on this frosting, which has gained a huge following, this lemon frosting is fluffy, 100% smooth, but not cloying because it's far less sweet and rich than buttercream. The texture sits between buttercream and whipped cream, but more towards the lightness of whipped cream. It behaves just like buttercream, ie. spread, pipe, fill cakes.
Ingredients:
2 cups plain / all purpose flour
2 1/2 teaspoons baking powder
1/4 tsp salt
4 large eggs (50 – 55g / 2 oz each), at room temp
1 1/2 cups caster / superfine sugar
115g / 1/2 cup unsalted butter , cut into 1.5cm / 1/2" cubes (or so)
1 cup milk , full fat
3 tsp vanilla extract , the best you can afford
3 tsp vegetable or canola oil
3 tbsp lemon zest (from 2 lemons)
1/3 cup lemon juice
1/4 tsp natural lemon extract (lemon oil) , recommended but not essential (Note 8)
6 1/2 tbsp flour, plain/all purpose
1 1/3 cups milk (full fat best, low fat ok, 0% fat no good)
1 1/3 cups caster / superfine white sugar (or granulated/ordinary)
300g / 1 1/3 cups unsalted butter , softened
3 tsp lemon zest (from 1 lemon)
4 tbsp fresh lemon juice