Peanut Butter Brownies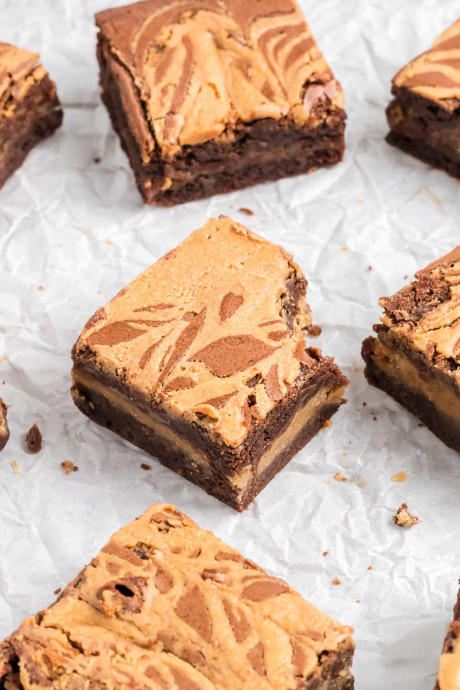 Fudgy and rich peanut butter brownies with a layer of peanut butter filling baked inside and a swirl of it on top. If you're a fan of peanut butter cups, you will love this brownie recipe. For all the chocolate peanut butter fans I present these fudgy brownies that are like Reese's peanut butter cups on steroids. They're rich, decadent, and borderline gooey on the inside. In other words, they are the ultimate peanut butter chocolate brownies.
There's a double dose of peanut butter in these treats starting with the simple swirl on top and a layer sandwiched inside between the fudgy brownie parts. A match made in heaven, a dream dessert bar for those afflicted with a serious sweet tooth, and the best way to treat yourself for… well, do we really need a reason to treat ourselves? Make a batch of these peanut butter brownies for you or for someone you are trying to win over and thoroughly impress. They are a show-stopper, for sure. Enjoy!
Ingredients:
Peanut Butter Filling
3/4 cup creamy peanut butter
1 cup powdered sugar
2 teaspoon vanilla extract
2 tablespoon 2% milk
Brownie Batter
1/2 cup unsalted butter
8 ounces semi-sweet chocolate chips
3/4 cup granulated sugar
1/4 cup brown sugar
3 eggs
1 tsp vanilla extract
1/2 cup plus 2 tablespoons all-purpose flour
2 tablespoon unsweetened cocoa powder
1/4 tsp salt
Peanut Butter Swirl Topping
2 tablespoons creamy peanut butter
2 tablespoons peanut butter chips