Italian Crusted Sardines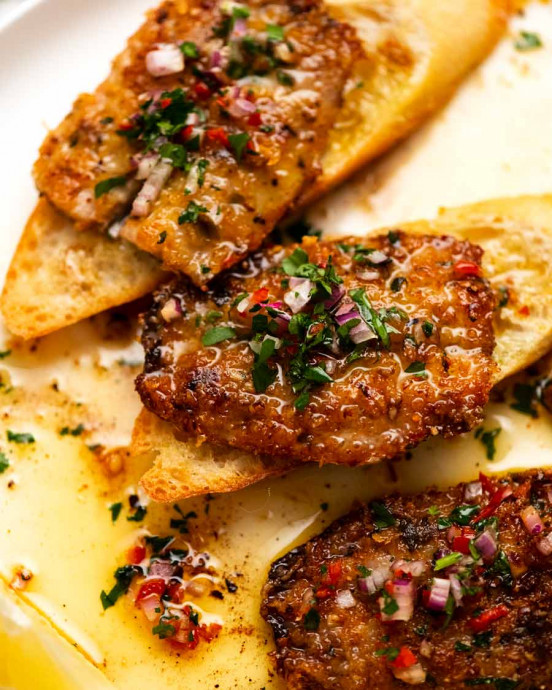 Here's the perfect recipe for the sardine-shy: Take fresh, boneless sardine fillets. Coat with a bold Italian breadcrumb crust flavored with lemon, garlic, herbs, capers and pecorino cheese. Now quickly kiss them with a hot pan until crispy. It's an explosion of flavor and texture that's cooked in 2 1/2 minutes flat, making it one of the fastest fish recipes around!
Sardines are one of the most underrated fish around. They are rich in flavour, cheap and good for you (they're packed with heart-healthy omega 3's). They're also a fast-breeding and sustainably fished species.
Many cultures revere the humble sardine, especially when pulled sparkling fresh from the sea. In Sicily, Italians love to roll up sardines stuffed with breadcrumbs, garlic, herbs and a little tangy hard cheese, then bake them or throw them on a hot barbecue.
It's this southern Italian take on sardines that we're drawing inspiration from today. The flavours of Sicily – lemon, pine nuts, chilli, garlic, herbs, pecorino and olive oil – are a winning match for the robust flavor of sardines! This recipe is an excellent one for the sardine-wary or first-timers because: There's no bones to worry about. We're using pre-filleted sardines today. However for the record, sardine bones are so small and soft you can actually eat them! The intense crust flavors stand up to the stronger flavor of sardines; and It's really quick and easy.
Ingredients:
8 butterflied sardines
1/4 tsp salt
1/8 tsp pepper
1/4 tsp smoked paprika (sub normal or sweet)
3 tbsp extra virgin olive oil
1/2 cup panko breadcrumbs
1 garlic clove , finely minced
2 tsp toasted pinenuts , finely chopped
2 anchovies fillets , finely minced
1 tsp baby capers , drained, finely chopped
1 tsp lemon zest
4 tbsp pecorino cheese , finely grated (or parmesan)
2 tsp fresh oregano , chopped (sub 1/2 tsp dried)
1 tbsp extra virgin olive oil
4 tsp red onion, finely chopped (~1/4 small onion)
1 tsp large red chilli, finely chopped , deseeded
2 tsp parsley , finely chopped