Pumpkin Beignets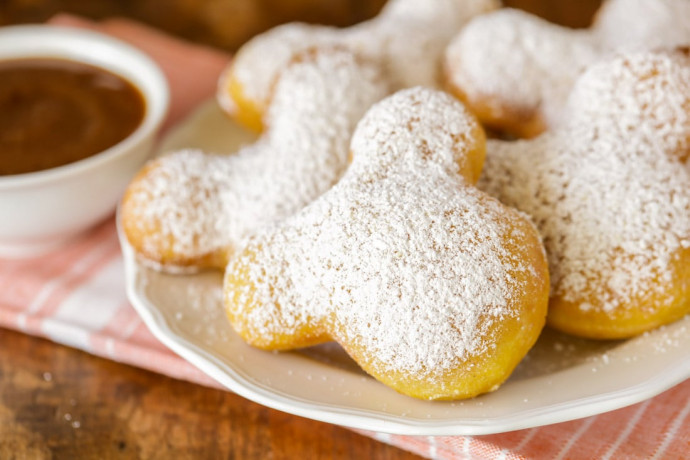 Pumpkin beignets are pillowy, sugary new orleans-style fried dough with a fall flavor. You can enjoy these soft donuts right at home sprinkled with powder sugar or dipped in your favorite sauce.
Making your own pumpkin pie spice is super easy. Most people already have the different spices in their cupboards. Be sure to buy plain pumpkin puree.
Don't rush the rise time. Your patience will be rewarded!
Maintain a constant oil temperature, about 370 degrees F, by frying in small batches.
Shape: the signature Mickey Mouse ear silhouette screams Disney. Pumpkin is a signature flavor of fall. Put the two together and you've got one irresistible treat! Of course, if you don't have a Mickey Mouse shaped cookie cutter, simply use a similarly sized cookie cutter in another shape. You can even use the top of a glass cup to stamp out a circle or use a pizza cutter to create evenly sized squares. No matter what shape you use, if you love pumpkin, you'll love these delicious beignets.
Dips: The sugar and spice coating on the beignets is pretty much all you need, but if you really want to put this dish over the top try dipping them in a vanilla anglaise sauce. The recipe is included in the post with the regular version of Mickey beignets. You can also dip these pumpkin beignets in white chocolate sauce or fudge sauce.
Ingredients:
3/4 cup warm water 110°F/45°C
1 tsp active dry yeast
1/4 cup white sugar
1 egg whisked
1/2 tsp salt
dash pumpkin pie spice
1/4 cup pumpkin puree
1/2 cup heavy cream
2 tbsp shortening
3 - 3 1/4 cup all purpose flour
1 qt oil for frying
3/4 cup powdered sugar
3 tbsp pumpkin pie spice
1 cup sugar
5 tbsp butter unsalted (and softened)
3/4 cup heavy whipping cream
1 tsp cinnamon
1 tsp vanilla extract
salt dash