Cranberry Orange Baklava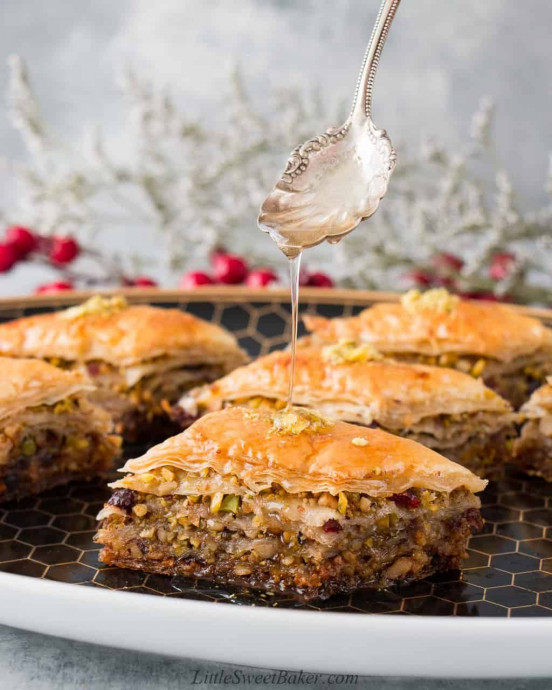 This holiday-inspired baklava is made with crispy delicate layers of phyllo pastry and finely chopped nuts and cranberries. It's flavoured with cinnamon spice and orange zest, and soaked in a sweet honey-lemon syrup. This cranberry orange baklava is the perfect make-ahead treat for the Christmas season. It's surprisingly easy to make. It just takes a little time to put together. It has signature holiday flavors like cranberry-orange and cinnamon. It keeps and stores well and makes a lot, so it's great for sharing and gifting. It's a special and indulgent dessert that anyone would love and appreciate.
Baklava is traditionally very sweet, but the addition of fresh lemon juice to the syrup not only brightens up the flavour, it also balances the sweetness. The cranberries add flavor and a nice texture contrast to the nuts in the filling. Using pistachios in the nut mixtures elevates the taste and adds a lovely touch of green. The orange zest gives a beautiful aroma and livens up the whole dessert.
Ingredients
Baklava
1 pkg (16oz/454g) phyllo pastry, thawed and trimmed to fit a 9×13″ pan
2 cups (8oz) finely chopped pistachios plus more for garnish
2 cups (8oz) finely chopped walnuts
1 cup (4oz) finely chopped dried cranberries
1 tsp ground cinnamon
zest of 1 large orange
1 cup (114g) unsalted butter, melted
Syrup
1 cup sugar
1 cup honey
3/4 cup water
juice of 1 lemon