Peanut Butter Banana Overnight Oats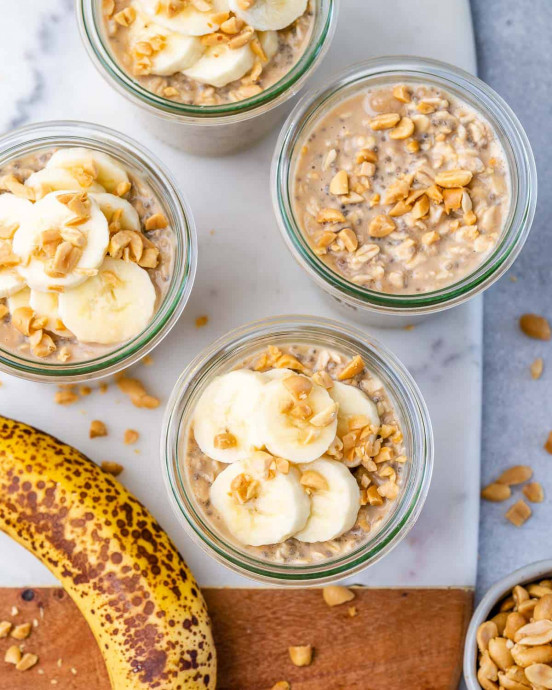 These simple peanut butter banana overnight oats are dreamy and filled with the protein you need to jumpstart your day. Minimal and simply delicious, you're going to love this easy breakfast recipe that is made with chia seeds, oats, and peanut butter! These overnight oats are lightly sweetened and filled with a nutty flavor you will love. Smooth and creamy, this oatmeal recipe is fitting for whenever you need something to grab and go or just enjoy at home. These peanut butter overnight oats are super filling and will curb your hunger for a good while so you don't have to worry about feeling super hungry.
This overnight oatmeal recipe is great for whenever you want to plan breakfast for the week ahead and eat healthy at the same time. Oats are easily customizable with so many options such as sliced bananas and peanuts. We love to add extra protein to our oats whenever we're needing a little extra fuel for the day. Healthy: These oats are dairy-free and refined sugar-free, too, so you don't have to worry about consuming dairy in this recipe. Peanut butter and oats are nutrient-dense and great sources of fiber and protein.
Perfect for meal prep: This recipe is perfect for meal prep! Overnight oats are perfect for making in batches to keep throughout the week for meal prep. You can use any kind of storage container with a lid.
Simple to make: With such basic steps and hardly any labor, these peanut butter overnight oats are one of the easiest breakfast recipes out there. Just place the ingredients in a jar and place in the refrigerator!
Ingredients:
2 bananas spotty & mashed
3 tablespoons peanut butter creamy
¼ cup maple syrup pure
2 teaspoons vanilla extract
2 ½ cups almond milk unsweetened
2 cups old-fashioned oats
2 tablespoons chia seeds
sliced banana
peanut butter
peanuts unsalted and chopped