Berry Chocolate Trifle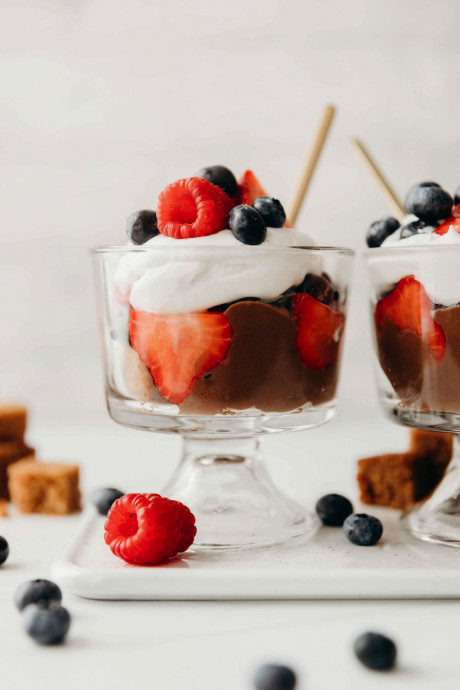 Breaking trifle tradition with a chocolatey twist! Vanilla cake, chocolate custard, berries, and coconut cream.
If there was ever a dessert where the whole is greater than a sum of its parts, it would be this layered cake + custard + berries + cream classic right here. And once you make the custard layer a CHOCOLATE custard layer…I just don't think I can go back now.
Traditionally trifles are made with a more dense cake like pound cake, but I used my favorite vegan and paleo vanilla cupcake recipe baked in an 8×8″ square cake pan. You really only need half of the cake to make 4 trifles, so save the rest for snacking or ice cream sundae making or future trifle endeavors (it freezes well too!) I recommend baking a day ahead of time, chilling overnight, and then cubing the next day. And this is where we reeeeeeeally bend the trifle rules and swap the typical plain or slightly lemony custard for chocolate. It's essentially like making a stovetop chocolate pudding, so we are using almond milk, arrowroot, cocoa powder, vanilla, etc. It cooks quite fast, just a few minutes of boiling and whisking, but it needs to cool completely before assembling the trifles so again best to make the day before.
Ingredients:
1 8×8" square of your favorite vanilla cake (or boxed mix)
1 cup strawberries, sliced
1 cup raspberries
1 cup blueberries
Coconut Whipped Cream
1 can coconut cream, chilled at least 24 hours
1 tbsp agave or maple syrup
1 tsp vanilla extract
Chocolate Custard
2 cups (240g) almond milk
1/3 cup (50g) coconut sugar
3 tbsp (22g) arrowroot
1/3 cup (35g) cocoa powder
1/2 tsp vanilla extract
1/4 tsp salt