Tapas-Syle Meatballs (Albondigas En Salsa)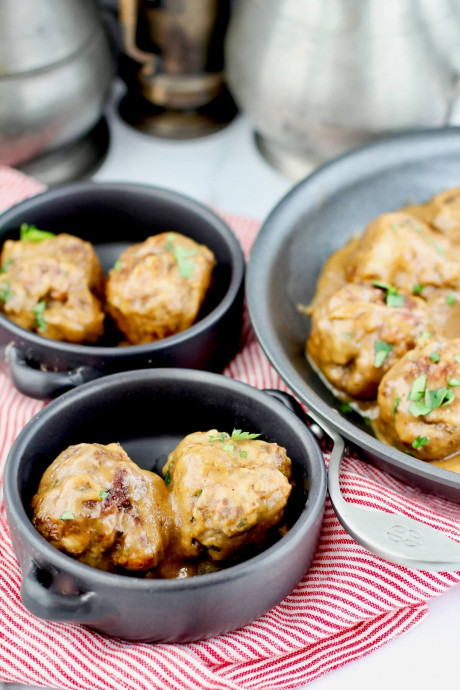 Meatballs (albondigas) are often enjoyed in tapas bars in Spain for an after work snack and drinks or a glass of wine. In cities like Madrid, you might go from bar to bar, having a taste of a small dish and a cocktail before moving onto the next bar to try something different, kind of like a progressive dinner party!
Almost anything can be tapas, as long as it's a small dish, but some of the more popular tapas include patatas bravas and Spanish tortilla.
Tapas are often served on toothpicks, and in the past, the server would add up the number of empty toothpicks on your plate in order to calculate your bill.
To get evenly sized meatballs, weigh the meat mixture with a food scale first, divide the weight by ten, and then use your scale to evenly weigh out each meat portion. If you weight it in grams, it's even easier to get evenly sized meatballs.
It's the sauce that really gives these meatballs their flavor.
You brown the meatballs and then simmer them in a mixture of olive oil, garlic, onion, leeks, beef broth, and white wine that has been cooked and pureed.
Ingredients:
For the Meaatballs
12 ounces ground beef
12 ounces ground pork
1/4 cup fresh white bread crumbs
2 tablespoons finely chopped flat-leaf parsley
2 eggs, lightly beaten
3 cloves garlic, finely chopped
Salt and pepper, to taste
1/2 cup flour
1/2 cup olive oil
For the Sauce
3 cloves garlic, finely chopped
1/2 large yellow onion, chopped
1 small leek, white part only, split lengthwise and thinly sliced crosswise
1 bay leaf
1 tablespoon flour
1 1/4 cups beef broth
3/4 cup white wine
Salt and pepper