Baked Eggplant With Tomatoes Greek Style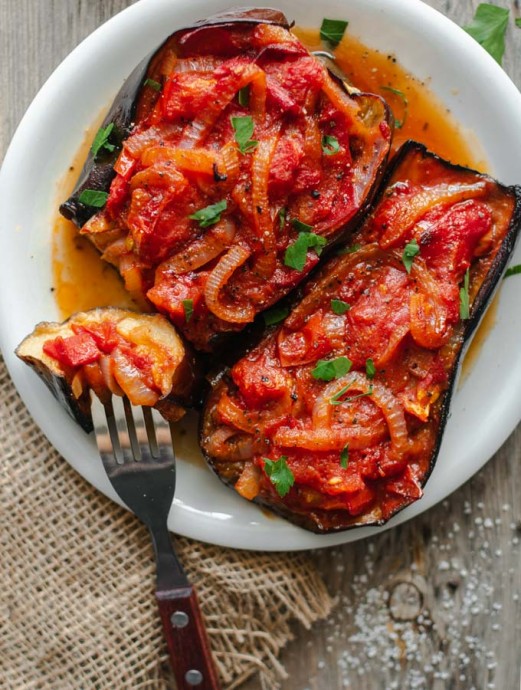 Eggplant boats topped with chunky and saucy, fresh tomato topping that's loaded with onions and garlic. This traditional Greek dish is very easy to make using fresh ingredients.
Traditionally, in this recipe, the eggplants are deep-fried. But I've skipped this and roasted the eggplants in the oven instead. Because eggplants are a heavy and fulfilling vegetable that tends to absorb oil like a sponge. That's why in this recipe I find it better to simply roast the eggplants with just the ⅓ of oil you would be getting if you fried the eggplants. Also, this recipe calls for lots of garlic and onion, which is what makes this dish a bit heavy, but also very very flavorful!
Ingredients:
2 large eggplants
1 cup olive oil (for the eggplants)
+ a splash of olive oil (for the sauce)
1 large red onion cut into slices
8 garlic cloves cut into chunky bits
3 medium-sized ripe tomatoes cut into 2cm / 1-inch pieces
1 teaspoon tomato paste
a handful fresh parsley chopped
1/3 teaspoon ground nutmeg
kosher salt + freshly ground pepper