Vegan Vanilla Sheet Cake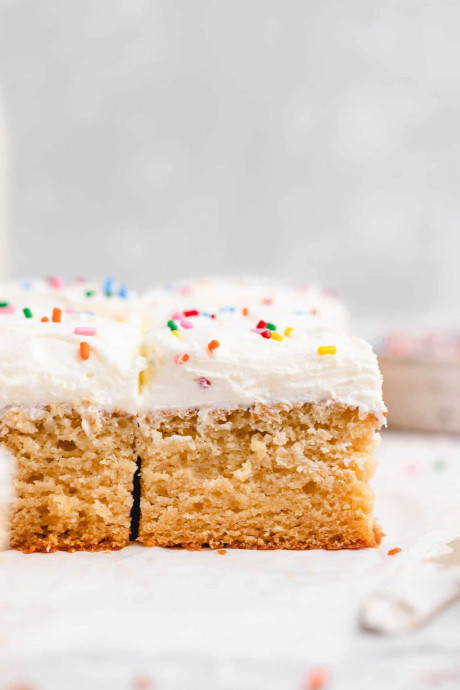 Fluffy Vegan Vanilla Sheet Cake with whipped buttercream frosting may be simple, but it's also the definition of delicious! This moist, homemade vanilla cake is perfect for parties, an emergency/short-notice dessert, and more!
What Makes this the Best Vegan Vanilla Cake? It's Low-Maintenance: Nothing in the list of ingredients will surprise you. There's some vanilla extract, some sugar, and a little vegan buttermilk, but no super-secret, hard-to-find ingredients. In fact, you've probably got everything you need ready to go in the pantry/refrigerator! That's one of the beautiful things about this sheet cake recipe – you can make it at a moment's notice.
It's Simple Yet Delicious: This vanilla cake is a pretty safe bet as far as flavors go, without being bland or boring. Even the pickiest of eaters will probably go for a slice of simple yet sweet vanilla sheet cake!
Easy to Decorate/Customize: Feel free to customize this cake for the current season! Red and green sprinkles would be perfect for the holidays, black and orange for Halloween, red and pink for Valentine's day, etc. Whatever you like!
It's Quick: This cake requires only 10 minutes of prep time before it's ready for the oven. After that, all you have to do is whip together the frosting, which takes about the same amount of time!
Ingredients:
For the Vanilla Cake
2 tablespoons apple cider vinegar
2 cups soy milk or other vegan milk (480mL), room temperature
2 cups brown sugar or cane sugar (400g)
3 cups all-purpose flour (360g)
2 teaspoons baking soda (10g)
1 teaspoon sea salt (2.8g)
⅔ cup vegan butter melted and cooled (150g)
1 tablespoon vanilla extract
For the Whipped Buttercream Frosting
3-3 ½ cups powdered sugar
1 cup vegan butter , softened
1 teaspoon vanilla extract
1 tablespoon vegan milk , add more if needed
¼ teaspoon sea salt , only if using unsalted butter