The Best Vegan Enchiladas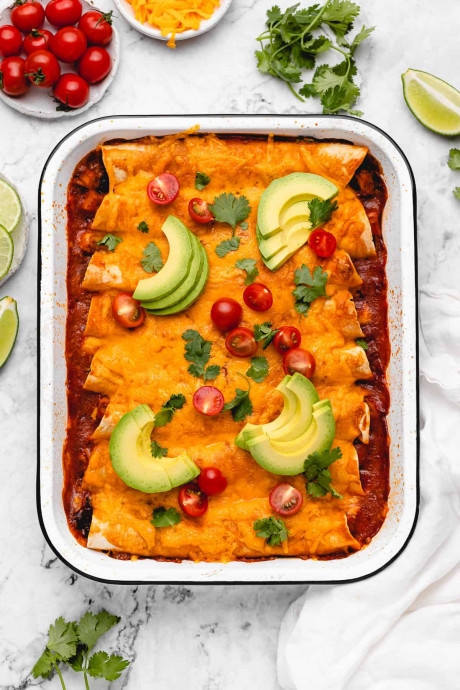 Vegan Enchiladas are a delicious and easy weeknight recipe. Made with black beans and sweet potatoes, these meatless enchiladas are healthy, and they'll fill you right up! They are guaranteed to become a family favorite!
The cheese! That's it. The yummy, gooey, vegan mozzarella cheese.
Okay, so maybe it's a little more than that. In fact, there are a ton of reasons to treat yourself to these vegan enchiladas! Here's why I love these enchiladas, and think that you will too:
They're Healthy and Hearty: Yes, these enchiladas are loaded up with cheese and some avocado slices, but they're pretty darn healthy! Meat is subbed out for black beans, which are high in protein, and sweet potatoes, which are vitamin-rich. You definitely will not hear any complaints of an empty stomach after serving up a plate of these veggie enchiladas!
They're a Crowd-Pleaser: I don't know about you, but I don't know many people (any at all?) who will turn down a cheesy, sauce-smothered plate of enchiladas. This recipe looks really elegant, but it only takes 45 minutes to make. You can impress your guest with these enchiladas, while still being able to spend time with them, instead of being in the kitchen!
They're Customizable: It's no secret that decorating is one of the best parts of cooking – it's so fun! As you can see, I had a blast organizing these pictures. Decorate your enchiladas with avocado slices, tomato, corn kernels, or whatever else your heart desires!
Ingredients:
2 tablespoons coconut oil
1 medium sweet potato peeled and diced
½ large purple onion sliced or diced
½ teaspoon ground black pepper
½ teaspoon sea salt
2 tablespoons water
3 cloves garlic minced
½ teaspoon cumin
1 teaspoon chili powder
¾ to 1 cup cooked black beans drained (I
1 ¾ cups vegan mozzarella shreds
6 to 8 to tortillas
2 cups enchilada sauce
¼ avocado chopped for garnish
1 small roma tomato chopped for garnish
Cilantro for garnish
vegan sour cream for garnish