Butterscotch Pecan Cake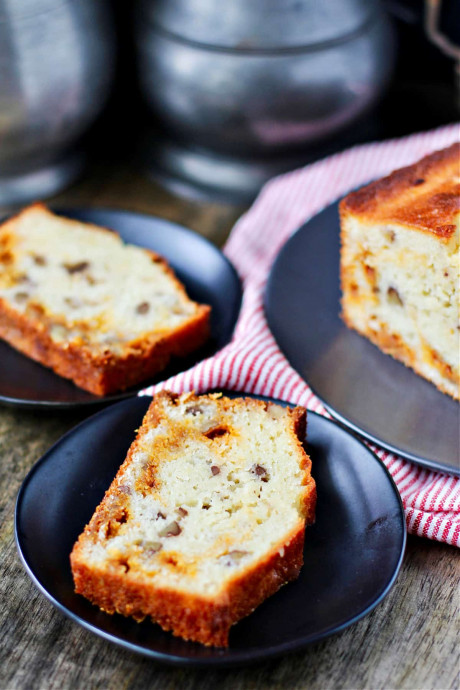 This Butterscotch Pecan Cake is super buttery and rich. It's filled with butterscotch chips and pecans and is so easy to put together.
This butterscotch cake is loaded with butterscotch chips and toasted pecans. It's super moist, and includes both butter and plain full fat yogurt, along with eggs, sugar, and flour.
The cake is super sweet and is much like a pound cake... rich and delicious. When I first sliced into this cake, I was a little bit disappointed at the smear of butterscotch chips in the cake, until I took another look at the photo in the book, which also include streaks of butterscotch chips.
This cake is very tasty and super easy to put together. You don't need a mixer either.
Ingredients:
198 grams (1 cup) granulated sugar
160 grams (2/3 cup) plain yogurt, room temperature
3 large eggs, room temperature
1/2 teaspoon vanilla
210 grams (1 3/4 cups) all purpose flour
1 1/2 teaspoons baking powder
1/4 teaspoon baking soda
1/4 teaspoon salt
146 grams (2/3 cup) unsalted butter, melted and cooled slightly
1/4 cup butterscotch chips
1/2 cup chopped pecans, toasted