Vegetarian Spinach Pumpkin Lasagna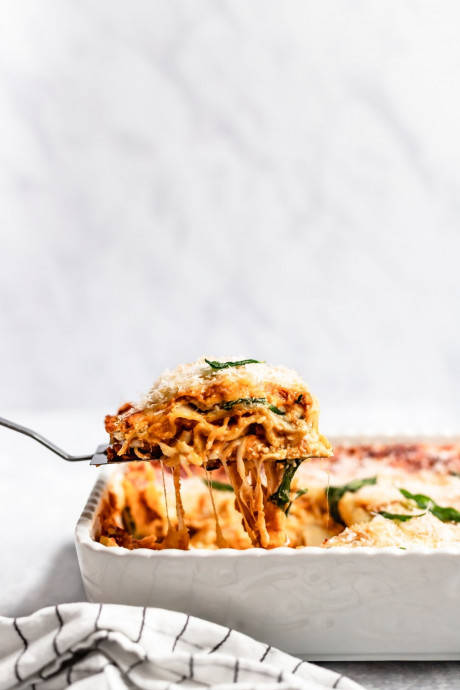 Incredible vegetarian spinach pumpkin lasagna with layers of cheese and pumpkin puree. This healthy pumpkin lasagna recipe includes an entire bag of spinach for extra veggies and makes the best freezer-friendly dinner! One of my favorite meals growing up was my mom's spinach and butternut squash lasagna layered up with mozzarella cheese and cozy fall flavors. I used to beg her to make it for me and then refuse to share the recipe with anyone because I was SO freaking obsessed. This pumpkin lasagna is basically a version of that but with my own little twist for Pumpkin Week using TWO whole cans of delicious pumpkin puree.
It's a little sweet, a little savory, plenty of cozy and basically heaven in every single bite.
This healthy pumpkin lasagna recipe is packed with sneaky veggies and cozy spices that make it literally the best comfort food for fall & winter. Here's what you'll need to make it:
For the pumpkin layer: this layer has two full cans of pumpkin puree plus cozy spices like cinnamon, nutmeg, ginger & allspice that add a delicious hint of sweetness. They pair SO well with the savory & salty ricotta and cheese layers.
For the veggies: we're packing in a whole bag of spinach here for a boost of delicious veggies. You'll actually mix it in with the ricotta layer so it's the perfect way to sneak in some green for the kiddos!
For the noodles: I used regular lasagna noodles in this recipe, but you can also use gluten free or whole wheat if you prefer.
For the cheese layer: Between the layers of noodles is fresh mozzarella cheese, parmesan and a creamy ricotta. You'll also add an egg, a bit of garlic powder, salt & pepper. This also contributes to the lasagna flavor, so do not skip the cheese (an excellent source of protein!).
Ingredients:
For the noodles:
For the ricotta mixture:
1/2 tablespoon olive oil
6 ounces spinach (from 1 bag spinach)
1 (15 ounce) container part skim ricotta
1 egg
½ teaspoon garlic powder
1/2 teaspoon salt
Freshly ground black pepper
For the pumpkin layer:
2 (15 ounce) cans pumpkin puree
½ cup milk (I like unsweetened almond milk, but any milk will work)
¼ teaspoon cinnamon
¼ teaspoon nutmeg
¼ teaspoon ginger
¼ teaspoon allspice
3/4 teaspoon salt
Freshly ground black pepper
For the layers:
3 cups shredded mozzarella cheese, divided (approximately 12 ounces)
1 cup grated parmesan cheese, divided
To garnish:
Fresh chopped parsley or small sage leaves