Applesauce Cake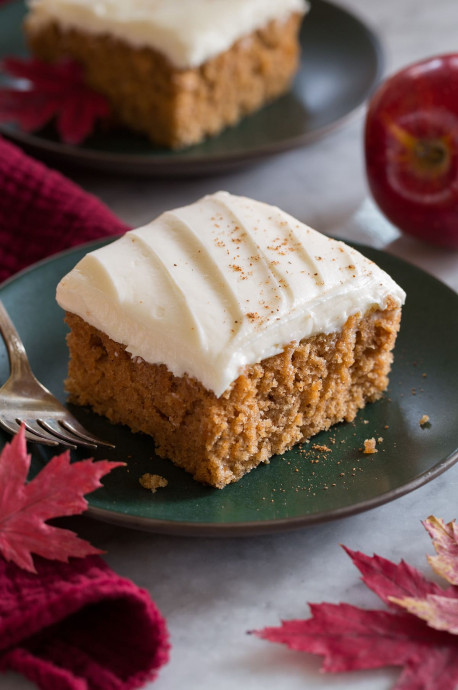 An amazingly delicious, old fashioned Applesauce Cake recipe! It's a super soft and moist cake, similar to carrot cake but rather with a light apple flavor and plenty of autumn spices! Who can resist a simple, flavorful, homestyle cake just like Grandma would have made? This cake is just that!
It's brimming with applesauce, generously speckled with warm spices throughout, there's just enough sweetness, and it's all balanced with a rich cream cheese frosting to polish it off.
It's an autumn cake worthy of celebrations, bringing to the holiday dinner parties, nice for gifting, or just a great applesauce snack cake to have in the fridge to enjoy after dinner throughout the week. You'll find it's so good in fact that it really doesn't even need a frosting if you aren't feeling up to it. That's right, a cake so good you can even skip the frosting!
A luscious cake that will have you savoring every tempting bite!
Ingredients:
2 1/4 cups (318 g) all-purpose flour (scoop and level to measure)
1 tsp baking soda
1 tsp baking powder
3/4 tsp salt
2 tsp ground cinnamon
1 tsp ground ginger
1/2 tsp ground nutmeg
1/4 tsp ground allspice
3/4 cup (150 g) granulated sugar
1/2 cup (100 g) brown sugar (break up any clumps with fingertips)
2 large eggs
2 cups (490 g) unsweetened applesauce
3/4 cup (175 ml) vegetable oil or canola oil
1 tsp vanilla extract
Cream Cheese Frosting
8 oz. cream cheese, nearly at room temperature
6 Tbsp butter, soft
3 cups (360 g) powdered sugar
1 tsp vanilla extract