The Ultimate Cheesy Scalloped Potatoes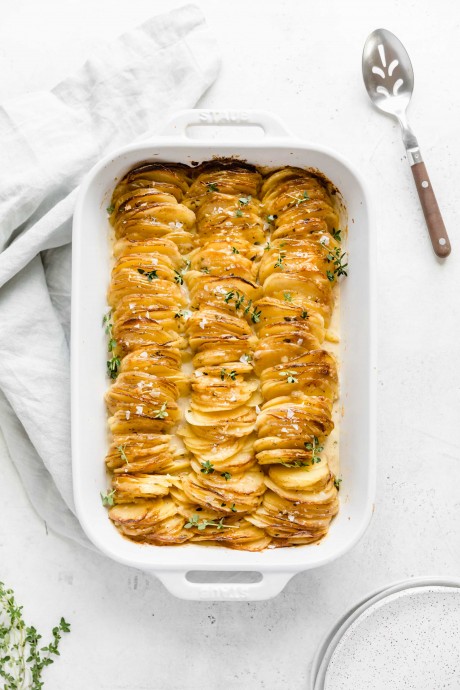 This is my favorite scalloped potatoes recipe made with all sorts of creamy, cheesy deliciousness. They are unbelievably good. Hands down the best scalloped potatoes recipe ever made!
Most scalloped potato recipes are made of thinly sliced potatoes in a cheesy butter- and cream-based sauce. While the result is delicious (I mean how could butter, cheese, and potatoes be wrong?), it can sometimes get a little mushy.
Instead of cooking the potatoes in a pool of cheesy cream, I used less cream and more cheese. You get some of that creamy goodness, but also a fantastic crisp around the edges by using slightly less liquid and arranging the potatoes vertically in your pan. Try it!
Ingredients:
4 tablespoons Creamery Cultured Butter with Sea Salt, divided
4 pounds gold russet potatoes, washed
1 tablespoon all purpose flour
1/2 cup heavy cream
3/4 cup chicken stock
2 cloves garlic, minced
1 ½ teaspoons fresh thyme, minced (can also substitute with 2 teaspoons dried thyme)
8 ounces shredded gruyere cheese, divided
¼ cup parmesan cheese, finely shredded