Apricot Frangipane Tart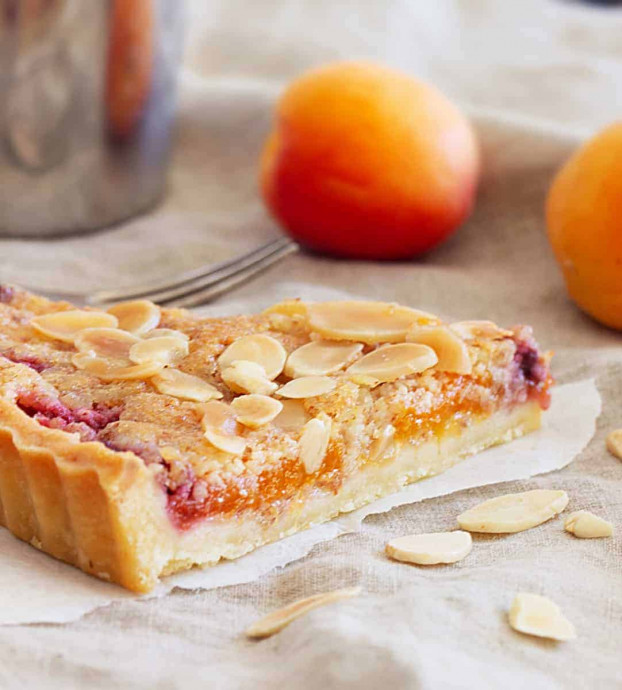 This apricot tart is all that we love about fruit desserts: juicy caramelized apricots and raspberries between layers of almond cream encased in a sweet crust. The different components can be made in advance! So easy and so delicious!
The recipe is as french as they come and the result is amazing.
Top tips
Fruit: you can use fresh apricots or canned if you find good ones. Raspberries can be fresh or frozen. And don't discard using other stone fruit such as peaches or nectarines, plums, or cherries.
Sweet shortcrust pastry: I use my favorite French recipe that always works. Feel free to use another sweet pie crust or even an all-butter store-bought one.
Frangipane: this is the traditional way to go, but I have made a walnut cream version that is amazing. So innovate with another nut if you're in the mood.
Make-ahead: the dough can be made ahead and frozen or kept in the fridge for a few days. The same goes for the lined pan; I usually have a tart pan in the freezer lined with sweet pie crust. It saves so much time when I want to bake! The almond cream can be made ahead and keeps well for a week in the fridge and can be frozen too.
Keeping: this tart is best eaten the day it's made, but holds well for 2 days. You can leave it at room t° for a day, and then wrap it and keep it in the fridge. I don't like freezing it, as the apricots and raspberries turn mushy when defrosted.
The sweet shortcrust pastry is thin and crisp, the layers of frangipane are sweet and creamy, and the apricots are juicy and acid at the same time to balance the rest. An absolute must-try!
Ingredients:
1 recipe for Sweet Shortcrust Pastry
⅓ recipe for Frangipane
6-7 apricots, cored and sliced
2 tablespoons brown sugar
1 tablespoon butter
½ cup fresh or frozen raspberries
⅓ cup of sliced almonds