Turkey Stuffed Poblano Peppers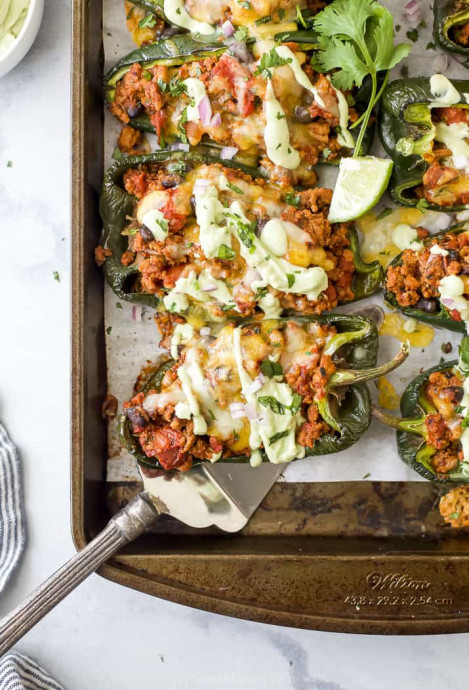 These spicy Turkey Stuffed Poblano Peppers are a healthy dinner option that your family will obsess over. Topped with melty cheese and served with a refreshing avocado crema, you'll savor every bite until there's nothing left!
Speaking of the filling stuffed inside these tender peppers, you've got hearty ground turkey, tangy fire-roasted tomatoes, sweet red onion and soft black beans. All of that is combined with zesty lime juice, savory garlic cloves, spicy chili powder and so much more! Prepare for a seriously epic explosion of flavor.
Last but certainly not least, I have to spotlight the lovely avocado crema. It really adds the ultimate finishing touch to this dish – along with the shredded cheese, of course. Made with ingredients like Greek yogurt, fresh avocado and red pepper flakes, you may be tempted to double the recipe and use twice as much!
Ingredients:
For the Stuffed Poblanos
1 tablespoon avocado oil
1/2 cup diced red onion
2 garlic cloves, minced
1 lb. ground turkey breast
1 tablespoon cumin
2 teaspoon smoked paprika
2 teaspoon chili powder
1/2 teaspoon salt
1/4 teaspoon black pepper
1/2 cup low sodium black beans, drained and rinsed
14 oz. fire roasted diced tomatoes
1/4 cup fresh cilantro, chopped
1 tablespoon of lime juice
6 poblanos, halved and seeds removed
12 tablespoons shredded mexican cheese
For the Avocado Crema
1/2 cup plain greek yogurt
1 avocado
1 garlic clove
1 1/2 tablespoons fresh lime juice
1/4 teaspoon ground cumin
1/4 teaspoon red pepper flakes
1/4 teaspoon salt
garnish: fresh cilanto