Chili-Glazed Salmon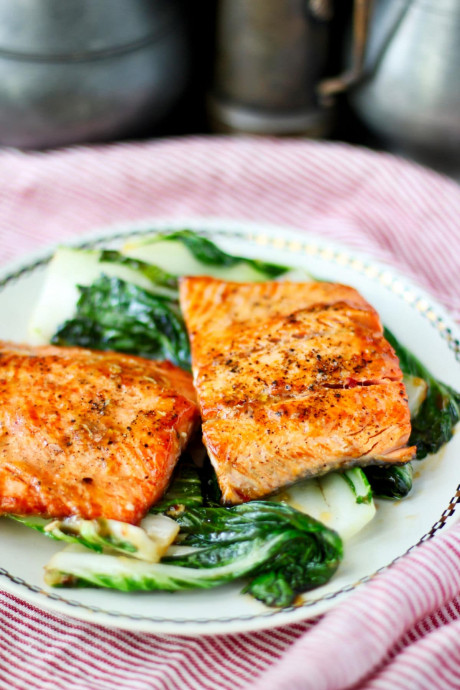 This chili-glazed salmon with bok choy is crispy on the outside and perfectly cooked on the inside.
This salmon dinner takes just minutes to make and is the perfect romantic dinner for two. You don't have to spend much time in the kitchen to create this delicious and nutritious dish. This combination of salmon and bok choy, both glazed in a sweet chili sauce pumped up with fish sauce and fresh ginger, is so tasty. Serve it as is, or with rice, garlic mashed potatoes, or noodles.
You and your sweetie will love every bite. The trick for making this delicious salmon dish is to use a nonstick skillet. You will still get a crispy outside without the salmon sticking to the pan. You can make this salmon with or without the skin. It's up to you. First, whisk together the sauce ingredients.
Next, heat a tablespoon of oil in a nonstick skillet and quickly brown the edges of the bok choy and remove it to a plate. After that, cook the salmon quickly, about 3 to 4 minutes a side depending on the thickness, and then add the glaze to coat the salmon. Finally, remove the salmon and return the bok choy to the pan to quickly toss in the remaining glaze. You will love this simple and delicious skillet meal for two.
Ingredients:
2 tablespoons Asian sweet chili sauce
1 tablespoon fish sauce
1 1/2 teaspoons freshly grated ginger
1/4 teaspoon cornstarch
2 tablespoons vegetable oil
2 heads baby bok choy or one head full-sized bok choy, split in half, lengthwise
2 (6 to 8 ounce) salmon filets, about 1 to 1 1/2 inch thick, patted dry and seasoned on both sides with salt and pepper
Lime slices