Asian Inspired Pulled Pork Sandwiches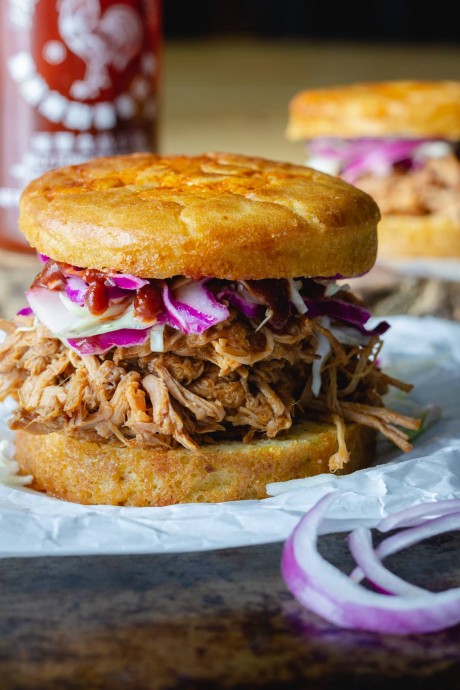 An Asian inspired maple sriracha pulled pork that goes great in sliders, tacos, or delicious on its own. Make ahead in your slow cooker for an easy weeknight meal.
The great thing about pork shoulder is that 1) it's inexpensive, and 2) it's easy to prepare since you're slow cooking it over a long period of time. A slow cooker works great for convenience. This way the flavors concentrate and the pork gets crispy. A compromise would be to simply brown your pork shoulder in a pan right before putting it in the slow cooker. Whichever way you choose, the end result is bound to be great. Taste this sweet & spicy tender pork that stands great on its own, no bun required (though more delicious with). I also paired it with a sesame slaw for a little extra Asian flavor.
Ingredients:
3-4 lb Pork Shoulder boneless
1/3 cup unsweetened ketchup Primal Kitchen
1/3 cup rice wine vinegar
1/3 cup coconut aminos
1/2 cup tomato sauce
4 tbsp Sriracha
2 tbsp sesame oil
2 tbsp maple syrup
1 tbsp yellow mustard
1 tbsp garlic powder
1 tbsp onion powder
2 cup shredded cabbage
1 tbsp rice wine vinegar
1 tbsp granulated sweetener
3 tbsp sesame oil
Prep Time:
10 minutes
Cook Time:
8 hours
Total Time:
8 hours 10 minutes