Spicy Shrimp Tacos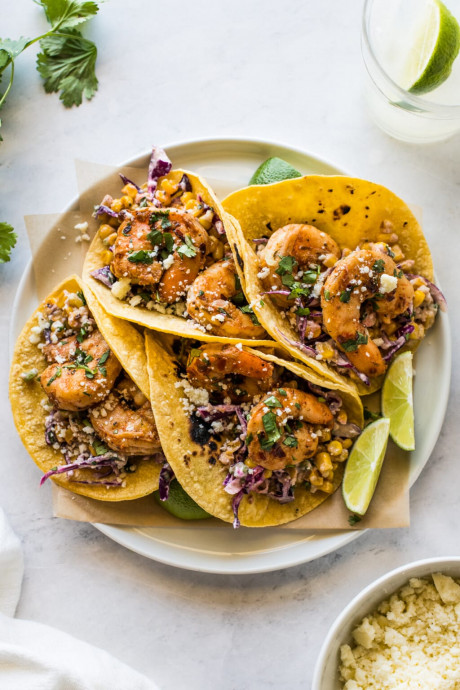 These Spicy Shrimp Tacos are an easy and flavorful weeknight meal made from quick-marinated shrimp served on top of a Mexican elote-inspired slaw. They're super simple to make, packed with tons of bold flavors, and ready in only 30 minutes from start to finish! These Spicy Shrimp Tacos with Elote Slaw are the answer to all your busy weeknight dinner problems!
Ever since having a baby about 4 months ago, I've come to truly understand the struggle of feeling like there's not enough time to make a meal that's really delicious AND good-for-you at the same time.
I totally get it now. The struggle is real!
But I'm here to say that it's 100% possible. I'm super excited to be partnering with Corn Oil to show you how to get some tasty food on the dinner table quickly, and feel really good about feeding it to your family all at the same time.
Ingredients:
For the shrimp
2 tablespoons Mazola® Corn Oil
1 lime, zested and juiced
2 cloves garlic, minced
1 1/2 teaspoons chipotle chili powder
1/2 teaspoon crushed red pepper flakes
1/2 teaspoon black pepper
1/2 teaspoon kosher salt, plus more to taste
1/8 teaspoon Mexican oregano
1 pound shrimp, peeled and deveined
For the slaw
1 teaspoon Mazola® Corn Oil
1 (15-ounce )can yellow corn, drained and rinsed
1 cup shredded red cabbage, packed
1 large jalapeno, diced
1/4 cup crumbled cotija cheese
2 tablespoons mayonnaise
2 tablespoons chopped cilantro
1 tablespoon sour cream
1/2 lime, juiced
1/8 teaspoon chili powder
kosher salt, to taste
For the tacos
8-10 small tortillas (corn or flour)
chopped cilantro
cotija cheese