Chicken With Fluffy Drop Dumplings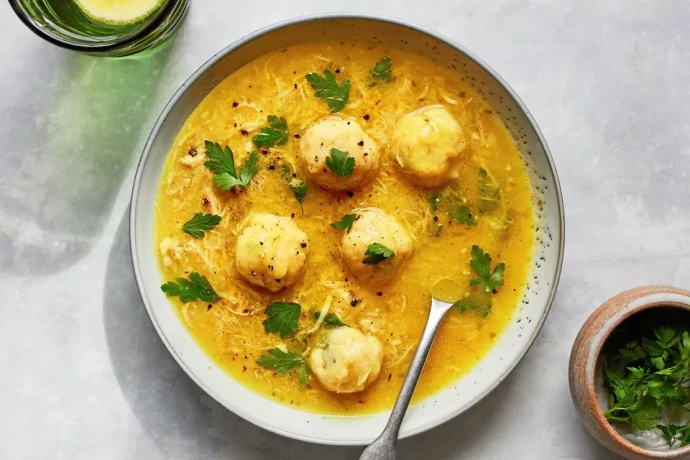 This chicken stew recipe is topped with easy fluffy drop dumplings for a hearty, satisfying comfort-food offering. The dumplings, cooked on the top of the stewed chicken, become soft and fluffy with a biscuit-like texture. Ground poultry seasoning and some chopped parsley add flavor and color to the dumplings.
Serve this easy and delicious chicken stew with a tossed salad for a satisfying dinner.
For vegans and others who don't consume eggs, an egg-free dumpling recipe with the addition of poultry seasoning and parsley is equally delicious.
Ingredients:
For the Soup:
5 pounds chicken fryer parts, bone-in breast, thighs, legs, and wings
2 tablespoons unsalted butter
2 tablespoons olive oil
4 cups water
1 stalk celery, diced
1/2 cup chopped onion
1 clove garlic, minced
1/2 teaspoon dried thyme
1 teaspoon dried parsley
1 bay leaf
1 teaspoon seasoned salt, such as Lawry's
1/2 teaspoon freshly ground black pepper
3 tablespoons all-purpose flour
For the Dumplings:
1 cup (4 1/2 ounces) all-purpose flour
1 teaspoon baking powder
1/2 teaspoon poultry seasoning
1/2 teaspoon salt
1 tablespoon shortening
1 tablespoon minced fresh parsley
1 large egg
3 tablespoons milk