Healthy Jewish kitchen: Shakshuka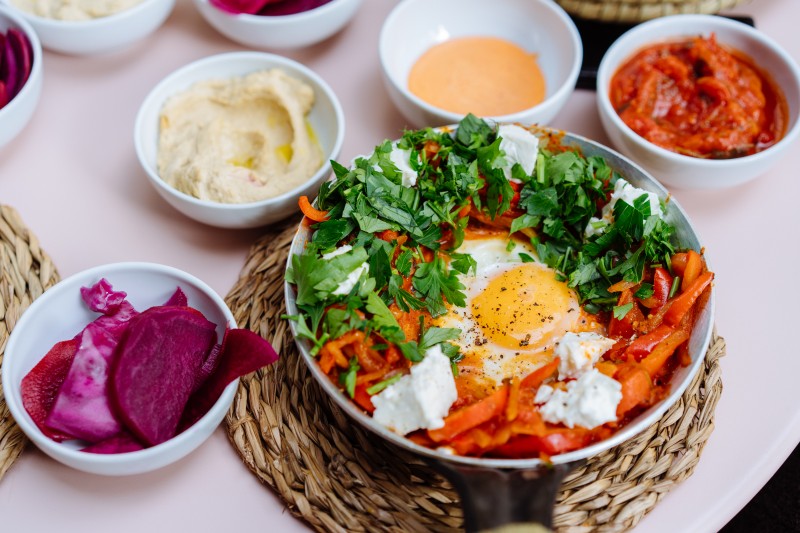 In Israel, food is a fusion of flavors of happiness, and a combination of richly varied cuisines from all over the globe, reflecting the multi-ethnicity of the Jewish people, and the places where they have settled over the years. Regardless of where history has taken them, the food Jews eat is governed by the laws of Kashrut – the code of sustainability that applies to the ingredients selection, the right balance, and food preparation methods.
Today we would like to share with you a healthy idea for a nutritious and well-balanced breakfast - Jewish classics made healthier and updated for American modern table, that reflects food trends beyond the Jewish culinary world – shakshuka.
Probably the most popular egg dish in Israel is shakshuka, meaning "all mixed up."
Ingredients
1/4 cup chopped fresh flat-leaf parsley
1 cup cubed feta cheese
3 eggs
1 fresh onion
2 teaspoons of tomato paste
1/4 cup vegetable oil
3 cloves of garlic, roughly diced
Pinch of salt
1 teaspoon of sweet paprika
4 large fresh tomatoes
Directions
Step 1
Chop onion and garlic finely. Cut the unpeeled tomatoes in quarters.
Step 2
Heat olive oil in a pan, place the tomatoes, garlic, salt, paprika, tomato paste, and vegetable oil. Bring to a simmer and cook, uncovered, over low heat until thick, for about 30 minutes, stirring occasionally.
Step 3
Ladle the tomato sauce into a greased 12″ frying pan. Bring to a simmer and break the eggs over the tomatoes. Add the eggs. Gently break the yolks with a fork. If adding feta cheese and parsley, sprinkle them on top. Cover the pan and continue to cook for about 5 minutes, until the eggs are set. Bring the frying pan directly to the table. Decorate with fresh greens. Serve with creamy hummus, baked beetroot and grilled tomato sauce.
Bon Appetit!