Twice Baked Sweet Potatoes with Marshmallows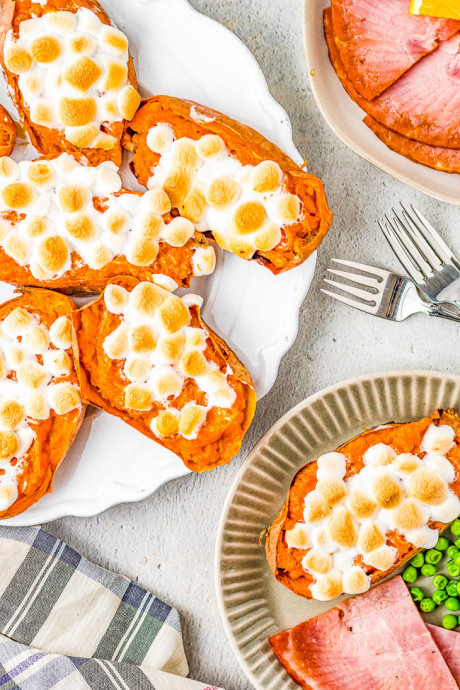 Twice Baked Sweet Potatoes with Marshmallows — Sweet, creamy, decadent, and reminiscent of sweet potato casserole but individually portioned! FAST and EASY enough for family dinners or make them for more formal holiday celebrations! Either way, these are always the PERFECT comfort food side dish that everyone devours!
I love sweet potato casserole so much! It's probably my favorite part of Thanksgiving dinner. However, because of the quantity it makes, I tend to only enjoy it once a year which is a shame, but true.
For that reason, I created these twice baked sweet potatoes, which have the wonderful creamy, sweet, and perfectly spiced flavor of sweet potato casserole minus the large quantity of food.
They're a great weeknight side dish or make them for Sunday family dinner.
Ingredients:
4 to 6 medium/large sweet potatoes, scrubbed well
½ cup brown sugar, packed* (See Notes)
⅓ cup unsalted butter, diced into large cubes
½ teaspoons pumpkin pie spice** (See Notes)
2 tablespoons heavy cream (half-and-half may be substituted)
½ teaspoon kosher salt, or to taste
2 cups mini marshmallows