Hoisin Beef Noodles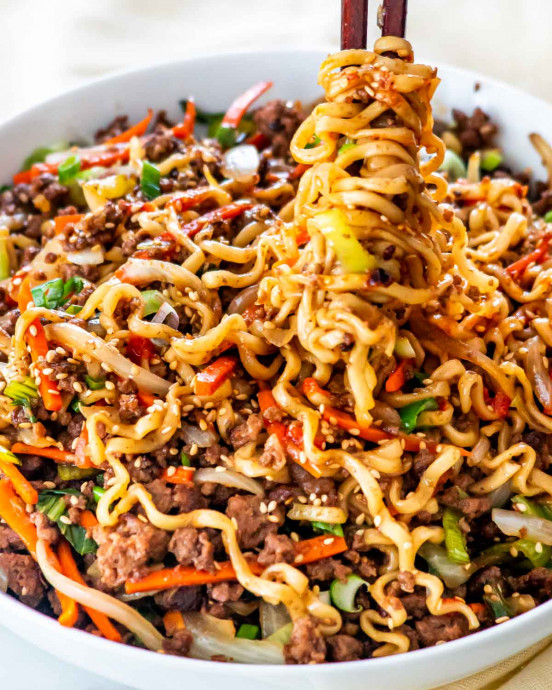 Hoisin Beef Noodles – Let's find a more fun way to use up that ground beef in your fridge! This recipe is made with an easy sauce, tender ramen noodles, crunchy veggies, and lots of beef. Check out my easy-to-follow instructions plus all the amazing ways you can customize this recipe to fit the ingredients you have at home!
This is the type of recipe born out of the ingredients I need to purge from my fridge. The first inspiration? That package of ground beef. I usually go for a simple bolognese or meatballs with this ingredient. Today I felt inspired to challenge myself and try something different to share with you. Dinner can still be easy, fast, while offering up a much needed change.
The sauce is created from a classic selection of Asian-inspired ingredients that I always keep on hand! You might not use ingredients like dark soy sauce or oyster sauce on a regular basis, but, trust me, you'll want to after trying this recipe out. It's a great balance of sweet, salty, and aroma that will make any stir fry feel like it's straight from a restaurant.
Ingredients:
1 tablespoon olive oil
1 pound ground beef
1 medium onion sliced
3 cloves garlic minced
1 cup bok choy shredded
9 ounce ramen noodles
2 tablespoon oyster sauce
2 tablespoon hoisin sauce
1 tablespoon dark soy sauce
2 tablespoon sesame oil
2 teaspoon rice vinegar
3 green onions chopped
2 tablespoon sesame seeds
1 large carrot shredded or sliced thin