Crispy Air Fryer Pork Chops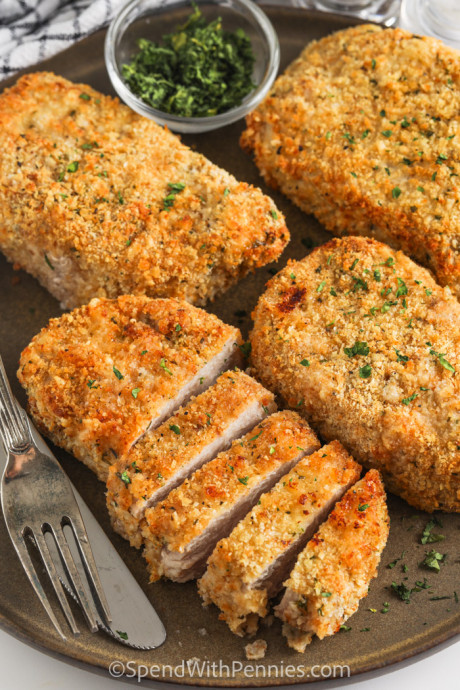 These air fryer pork chops come out crispy on the outside and super tender and juicy on the inside! It's never been easier to cook boneless chops, and the air fryer makes them both yummy and fast.
Pork chops are always a family favorite.
Cooking chops in the air fryer ensures they're juicy inside with a crisp coating.
They can be breaded up to 24 hours before cooking making meal time easy.
The air fryer is easy to cook in and easy to clean. Simple prep and easy cooking are what the air fryer is all about. Pork chops have never been easier to fry up!
Tips for Perfect Pork Chops:
Ensure chops are equal in size and thickness so they all cook at the same rate. Always preheat the air fryer so the hot air can instantly seal the outside, keeping in all the delicious juices! Keep a small space between food so the hot air can circulate around and cook everything properly.
Like pork tenderloin, pork chops can (and should) be a little tiny bit pink in the middle to ensure they're juicy. Internal temperature should read 140°F, test at the thickest part of the meat. Remove it from the air fryer a few degrees before (137°F) as the meat will continue to cook once removed from the air fryer. I highly recommend an instant read thermometer to ensure they don't overcook. Always allow meat to rest before serving.
Ingredients:
4 boneless pork chops ½" thick
salt & pepper
¼ cup flour
1 teaspoon Italian seasoning
½ cup seasoned bread crumbs
¼ cup Panko bread crumbs
2 tablespoons parmesan cheese grated
½ teaspoon paprika or smoked paprika
1 egg beaten with 1 tablespoon water