Pull Apart Roasted Garlic Pizza Dip Sliders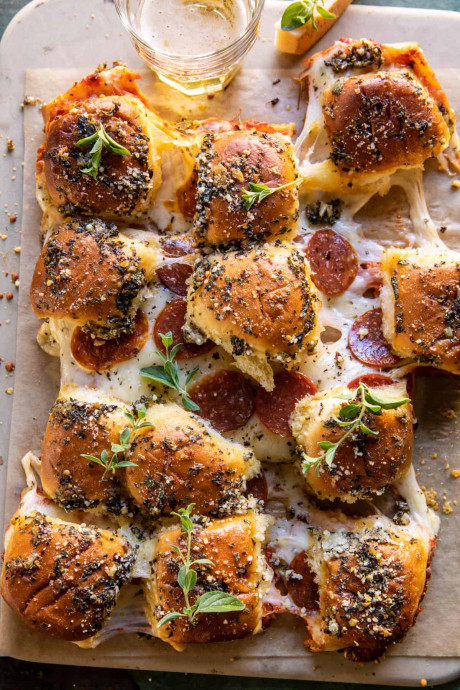 These easy Homemade Pull Apart Roasted Garlic Pizza Dip Sliders are such a fun and easy appetizer for everything from game day to holiday parties. Soft dinner rolls stuffed with marinara sauce, cheese, and pepperoni. Each handheld pizza slider is cheesy on the inside, yet golden toasted outside, with a delicious roasted garlic butter topping. Serve these sliders warm for a truly simple appetizer that everyone will love. There never seems to be enough of these fun pizza rolls so be sure to make a double batch to enjoy with family and friends.
And we have game day snacks!! I've been so focused on all the cozy fall foods, that I forget it's prime time game day season. Some of you might be looking for some new appetizers to share with family and friends. Well, that's what we've got here today.
I also just really want to make these little sliders because they're fun, easy, and delicious. I just love the idea of making pizza more of an appetizer, so these are great!
Ingredients:
1 head garlic
extra virgin olive oil
1 (12-count) package dinner rolls, halved lengthwise
1 – 1 1/2 cups marinara sauce
3/4 cup shredded mozzarella cheese
3/4 cup shredded provolone cheese
1/4 cup grated parmesan cheese
1/2 cup thinly sliced pepperoni
3 tablespoons salted butter, at room temperature or melted
1 tablespoon chopped fresh sage
2 teaspoons dried basil
1 teaspoon dried oregano
1 teaspoon dried parsley
1 pinch chili flakes