Chocolate, Dulce De Leche and Vanilla Marble Cake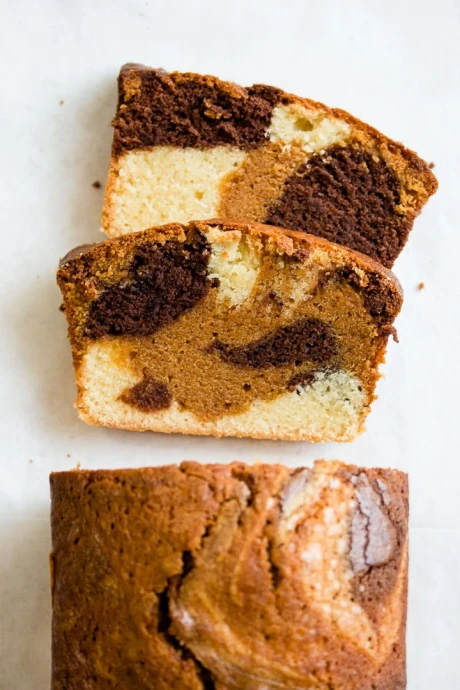 Dulce de leche is a South American confection made of sweet milk that gets cooked down until it resembles a caramel sauce. It's sweet and rich, which means it adds both sweetness and tenderness to the cake.
You can purchase cans of dulce de leche in supermarkets or on Amazon, but if you aren't able to find it you can also make it at home with a can of sweetened condensed milk. You can make this ahead of time, storing it in the fridge until you're ready to bake the marble cake. You can really taste each flavor — chocolate, dulce de leche, vanilla — in this triple marble cake. It's the perfect cake to pair with a cup of coffee or to share with friends for a casual gathering or picnic.The caramel marble cake is best enjoyed in the first two days at room temperature, but it also freezes really well if you have any extra!
Ingredients:
170 g (1½ sticks/6 oz.) unsalted butter, at room temperature
1 1/2 cups (300g) granulated sugar
60 g (2¼ oz.) semisweet or bittersweet chocolate, chopped
1/4 cup (80g) dulce de leche
3 large eggs
1 1/2 cups (210g) all-purpose flour
1/2 teaspoon salt
1/4 teaspoon baking powder
1/2 cup (120 ml) sour cream or buttermilk (heavy cream works great, too)
1 tablespoon Dutch process cocoa powder
2 teaspoons pure vanilla extract