Bean and Cheese Burritos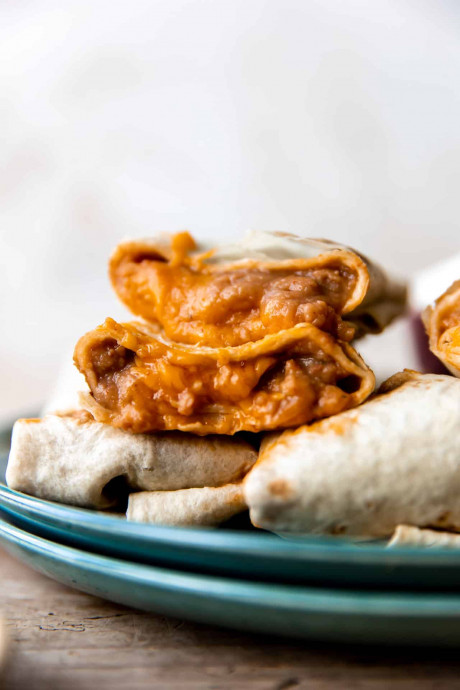 These classic bean and cheese burritos are loaded up with flavorful, creamy refried beans, melty cheese, and a spicy red sauce. This family dinner recipe is ready in under 30 minutes. Plus they can easily be prepared ahead of time making them perfect for busy weeknights.
Under 30 minutes: this easy recipe comes together in under 30 minutes. Not to mention they freeze and reheat perfectly, making them a great option for family dinner.
Family friendly: kids absolutely love this meal. Be sure to grab a mild enchilada sauce to keep any spice down if needed.
Adaptable: you can add whatever you would like! Control the salt and the spice as needed, plus there's info below on how to make sure this is a vegetarian friendly option.
Ingredients:
BEANS
1 (16 ounce can) refried beans, no salt added
½-⅔ cup chicken broth
¼ tsp chili powder
¼ tsp garlic powder
¼ tsp dried oregano
¼ tsp ground cumin
¼ tsp salt
BURRITOS
1 cup red enchilada sauce
2 cups mild cheddar cheese, shredded
10 flour tortillas, 10 inch